This is an archived article and the information in the article may be outdated. Please look at the time stamp on the story to see when it was last updated.
KANSAS CITY,  Kan. -- Police are searching for a killer. Tuesday night at 11th and Freeman Avenue, sources say an argument turned deadly and a man named Antwaen Reliford was killed defending his family.
"He died in my arms," said Reliford's sister, who asked not to be named because her brother's killer has not been caught. "He told me he loved me and the kids. And he was like 'I am alright.' And I told him I loved him and stuff, and he died. When he died,it just started pouring down raining not even a second later."
As if tears falling from heaven, his sister said. Reliford was not only her brother, but best friend who was by her side a year ago during her life-threatening child-birth and after.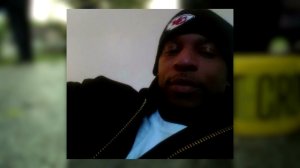 "He has been over here every day, every day," she said. "My brother was there and he has been helping me when I have been going through the whole depression and not feeling good, and my body is not right, so he has been helping me a lot."
Through her tears, a smile came across her face as she talked about memories of who her children called "Uncle Antwaen."
"I call him a first mommy. He was like a first mommy," she said. "Any time my son falls or anything, he just gets over dramatic. He didn't get to spend many times with his kids when he was younger, so he got the chance to do it with my kids. That was fun to watch."
Sources say there was an argument in front of a home Reliford was visiting Tuesday evening. He tried to intervene and stop it when he was shot. As Reliford ran away, up the street, he was hit and run over by a car.
"I don't ever vouch for anybody getting hurt or nothing like that, but people have to pay for what they, what they choose to do," Reliford's sister said. "Like they have to have justice. Like they need to get caught and go to jail because they chose to pull the trigger."
The killer got away, and police need your help tracking them down. If you have any information that can help police arrest a suspect, please call the TIPS Hotline at 816-474-TIPS.