This is an archived article and the information in the article may be outdated. Please look at the time stamp on the story to see when it was last updated.
KANSAS CITY, Mo. — "You have to find some type of peace because if not, you're going to drown."
Nearly 17 years in prison for someone else's crime: A Kansas City's man freedom only came when his look-alike showed up in prison too.
Richard Jones is enjoying his first weekend of freedom after nearly 17 years behind bars.
He always maintained his innocence when KCK police linked him to a 1999 robbery. Eyewitnesses pointed to his mugshot back then.
But they couldn't be sure. When presented with side by side images of another man.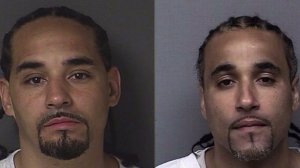 Now he has his life back, thanks to his faith and the tireless work of wrongful conviction advocates.
Richard Jones is free for the first time this century. Nearly 17 years behind bars for a crime he always said he didn't commit.
FOX 4's Rob Collins talked with Jones and his father about time in prison, his release, and what's next for the man who says the system failed him.
Richard Jones' father, Fred, couldn't believe it when he got the news his boy was free.
"She said, 'they let him go' and I said, 'nuh-uh.' She said, 'yeah, they let him go. He'll be out first thing in the morning.'"
According to independent studies, between 2 and 5 percent of inmates in the US are innocent. The Midwest Innocence Project says it takes 7 to 10 years to exonerate an innocent prisoner.
"I didn't know what he looked like anymore, because he was so young when he went there, I didn't know what he looked like," Fred explained.
But nearly 20 years ago, a robbery victim and an eyewitness apparently did. In court, there was no DNA, no fingerprints, no physical evidence, just testimony. But it was enough to get a conviction and a sentence of 19 years.
"It's not something you wrap your mind around. It's surreal. It's hard to believe you're actually going through it," Richard said.
Maybe harder to believe are these inmate pictures. Another man — also named Richard — went to prison, and due to his uncanny resemblance to Jones, the Midwest Innocence Project began to surmise that Jones had been mistaken for him.
Two different men remarkably similar in appearance, they even share the same first name. It was all part of key evidence brought forward by the Midwest Innocence Project presented to a Johnson County judge who ordered Jones' release.
"It doesn't get the type of attention that it should get because it's purely injustice," Richard said. "And that's not right. We're supposed to be able to depend on our justice system."
With no support from courts, Jones said he had to find it somewhere else.
"Believing in God, praying that kept me just that kept me strong," Richard recalled. "I had my days but it was pretty much just praying."
Jones said his family also kept him going.
"You know, having a support system, that's the only way I got through it."
His support system was in full effect this weekend: dad, brothers, sister, and friends hanging out, basking in his newfound freedom.
"This actually brought our family closer together, you know, but that's what family does in times of tragedy and things of that nature: they come together," Richard said.
"I think he's going to take this, the negative, and turn it into something positive. I think he will," Richard's father said.
"Everything that happened, there's nothing I can do to change it," Richard said. "I move forward and I look forward to the future and what's going on with me now and I just feel like this is giving me a platform to speak for people who can't speak for themselves."
Those 17 years are now passed — time Richard will never get back — and while most states have laws that compensate wrongful conviction victims, Kansas does not.
A bill introduced this year would have changed that. SB 125 aims to compensate people $80,000 dollars for each year in prison. In Jones' case, that would come to $1.36 million.
But the bill wasn't touched after going to a committee in February, according to online senate records. Without a law like that, Kansas exonerees can still seek compensation though civil lawsuits.
In the meantime, a GoFundMe has been set up to help Richard get a solid financial footing for his new life on the outside.