This is an archived article and the information in the article may be outdated. Please look at the time stamp on the story to see when it was last updated.
INDEPENDENCE, Mo. — Police discovered a dead man Saturday afternoon in Independence after they received a call to respond to a shooting.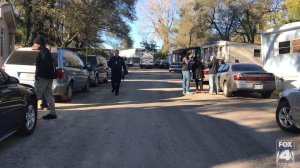 The call came in at about 2:00 p.m., to head to the 12800 block of E. 47th Street. When they arrived they found the man dead and a second man suffering minor injuries.
"The deceased subject was lying in the roadway outside of the mobile homes so whatever occurred, occurred outside one of the mobile homes," said John Syme, Independence Police spokesperson.
Saturday evening, police released a picture of a person they want to talk to regarding the homicide investigation. They also released to the public a picture of the car he may be driving: a red 1995 Chevrolet Camaro with t-tops and a possible license plate of CN5K5N. Jerome T. Roberson, 31, is 5'9 about 160 pounds.
If you know where this person or vehicle is they want you to call the tips hotline at (816) 474-TIPS, IPD at (816) 325-7777 or email leads@indepmo.org.

"I am very disturbed by it. Nothing like this has happened before in the three and a half years I've been here," said James Suggs. "I don't think I will be able to sleep at all tonight."
One man in the mobile park said he took video when he saw what was happening.
"I heard shots and I started recording. I saw a black pickup truck speed down the hill and I looked around the corner up the hill from the trailer and I saw the Camaro in a real hurry trying to turn around," said Brandon Kennison. "I ran up the hill. I called 911. I saw the guy on the ground in blood and I told the cops which way to go when they got here."