This is an archived article and the information in the article may be outdated. Please look at the time stamp on the story to see when it was last updated.
INDEPENDENCE, Mo. — A man out of jail on bond for a 2017 Independence killing has been charged in a murder, assault Sunday.
Michael T. Dumas, 27, faces charges of first degree murder, first degree assault and two counts of armed criminal action, according to Jackson County Prosecutor Jean Peters Baker.
Independence police responded to a home near 38th and S. Sterling Avenue just before 5:30 Sunday morning on a reported double shooting, according to court records. They found both victims in the home.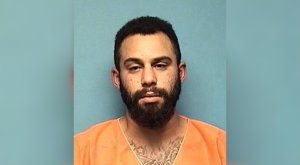 Witnesses told police that Dumas had recently been with the murder victim, who has been identified as Sarah Simms.
The witness told police Dumas was a suspect in a 2017 murder and was out on bond.
Simms, the victim in the shooting Sunday, was a cooperative witness in the 2017 crime, according to the witness.
A witness described how the Dumas shot the victim with a shotgun and wounded a second victim. Police found shotgun shells at the scene. Dumas' vehicle was parked outside and shells similar to the one found at the homicide scene were found near the vehicle.
Independence police reported Dumas was taken into custody shortly before 4:30 p.m. Sunday.
Prosecutors have requested a $750,000 cash bond.