This is an archived article and the information in the article may be outdated. Please look at the time stamp on the story to see when it was last updated.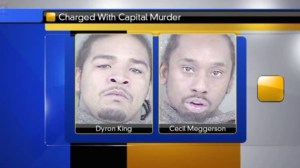 KANSAS CITY, Kan. — Two men convicted of a string of robberies and the shooting of a deputy in Wyandotte County learned their sentences on Thursday. Cecil Meggerson, 36, and Dyron King, 25, received the so-called "Hard 25" which means life in prison with the possibility of parole after 25 years. If he's ever paroled he will then have to spend another 37 ½ years in prison for the robberies.
In February, a Wyandotte County jury found Meggerson and King guilty of attempted capital murder, the most serious charge they faced.
In all, Meggerson was facing 10 charges and was found guilty on nine of them. King faced 11 charges, and was found guilty on nine as well. The charges included aggravated robbery and attempted first degree murder in the shooting of Wyandotte County Sheriff`s Deputy Scott Wood on March 4, 2015.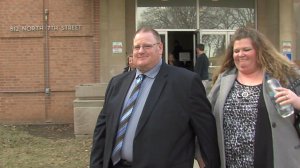 Deputy Wood recovered from being shot seven times and did testify during this trial and again during the sentencing hearing when victims give impact-statements. Wood had transferred to the patrol division of the Wyandotte County Sheriff's Department a few months before he was shot and was still in field training at the time. Wood's wife also testified how her husband's shooting has affected their family, their peace,  and feeling of safety.
Another victim who was at one of the stores when it was robbed was in the courtroom when Meggerson's sentence was read.
"One day at a time. Everyday is in God's hands and I just really do hope that they'll get some mental help while they're in there because they're going to be in there for a long time," said Reginald Jones, who was pistol-whipped and had multiple guns held to his head at the Family Dollar in Kansas City, Kan., when three men burst in to rob it.
"It was spooky. It was scary and I thought it was a dream," said Jones.
After that robbery, prosecutors say Meggerson and King and a third man went to the 7-Eleven in Kansas City, Kan., and shot Wood seven times.
The third suspect, Charles Bowser, 19, is scheduled to go to trial in May. He was granted a continuance after changing lawyers early on in the proceedings.