This is an archived article and the information in the article may be outdated. Please look at the time stamp on the story to see when it was last updated.
KANSAS CITY, Mo. — More charges have been filed against Antoine Fielder, a man who has been tried twice in the murder of a 22-year-old KCK mother. Both trials ended in a hung jury.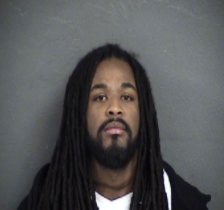 Wednesday's conference announced a new series of charges against Fielder, including some stemming from a December 2017 homicide.
Fielder is now charged with first-degree murder, two counts of armed criminal action and first-degree assault, among other charges.
Court documents state that police were called to 610 Spruce in Kansas City, Missouri, on a shooting the night of Dec. 26, 2017.
Officers at the scene found one deceased female and one injured male. An investigation involving surveillance footage and witness testimony led to Fielder's arrest in the case.
Fielder had been previously charged in the death of Kelsey Ewonus. Police found Ewonus's body inside a parked car in Kansas City, Kansas, in 2015.
Court documents in that case showed that Antoine Fielder admitted to spending the night with Ewonus at the Argosy Hotel on June 29, 2015. The next day her body was found in her car. She had been shot to death.
Court documents also show investigators obtained surveillance camera video showing fielder and Ewonus together at several locations, including the hotel.
Investigators interviewed two people who claim they traded three boxes of bullets with Fielder — the same type of bullets that killed Ewonus.
Fielder faced trail twice in that case. Both trials ended in a hung jury, so charges were dismissed.