This is an archived article and the information in the article may be outdated. Please look at the time stamp on the story to see when it was last updated.
NODAWAY COUNTY, Mo. — Steve Parsons was found guilty of statutory sodomy of a 14-year-old girl in Nodaway County. Minutes later he was dead, apparently by his own hand.
Parsons was facing a maximum of seven years in prison. So death by cyanide was the farthest thing from everyone's mind in the small town of Maryville, Mo. Now with his death, the case is closed and the prosecutor says he's disappointed for the victim.
Forty-eight-year-old old Parsons was well-known in both Stanberry and Maryville as the owner of Parson's Tire & Service.
He was also well-known to the courts.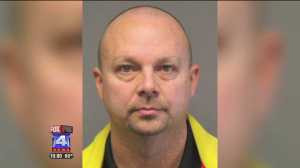 Four pages of traffic tickets, civil suits, criminal charges and most recently probation violations, a protection order and tax liens sit next to parson's name on Missouri's CaseNet, an online court information site.
SEE ALSO: Man dies moments after guilty verdict
"I can't speculate to what he was going through but I'm firmly convinced that his death was not a result of a wrongful verdict by the jury," said Jerry Biggs, the Gentry County Prosecuting Attorney.
What was going through Parsons head last week when he ordered 100 grams of cyanide, had it shipped overnight –and poisoned himself in the courtroom is something no one wants to speculate on, according to the Nodaway County Sheriff.
"It's not common to see someone just fall over dead in the courtroom even though they've just been found guilty of a crime," said Sheriff Darrin White, who was in the courtroom when Parsons went into respiratory failure.
"Well I was quite surprised and disappointed and unhappy and sorry. Sorry for the victim, sorry for her family," said Biggs.
Biggs says Parson's conviction and death is neither bitter nor sweet.
"I suspect that it's just more tragedy on top of tragedy," Biggs said.
Tragedy for Parsons' family who sat through the trial and witnessed his death in court, Biggs says.
And tragedy for the victim, who he says, went through a lot to go to trial, and take the stand confronting Parsons in court.
"This was a girl who had been wronged and was determined and brave enough to make things right," Biggs said.
Biggs says in this situation, no one wins.
The prosecutor says Parsons would have also had to register as a sex offender for life.
Toxicology results will take at least a month.
The judge has now closed the case and sealed all records.