This is an archived article and the information in the article may be outdated. Please look at the time stamp on the story to see when it was last updated.
KANSAS CITY, Mo. — Two people are in custody and a police officer is in the hospital after a high-speed police chase Monday afternoon.
Police said a police officer was in route to help with a police chase, when her patrol car crashed into a truck near Interstate 70 and Manchester.
The officer was heading north and the truck was heading south when the driver turned left in front of her, according to police. The entire front end of the patrol car was smashed. After the officer's car collided with the truck, the patrol car slammed into a dump truck that had four people riding inside.
Police said the officer was transported to the hospital to be treated for injuries. The officer and the driver of the truck are expected to be okay.
Currently no one is facing charges in the accident involving the police car, but the  drivers involved in the chase are in custody, according to police. Police said the two people the officer was pursing on the chase were taken into custody shortly after her vehicle was wrecked.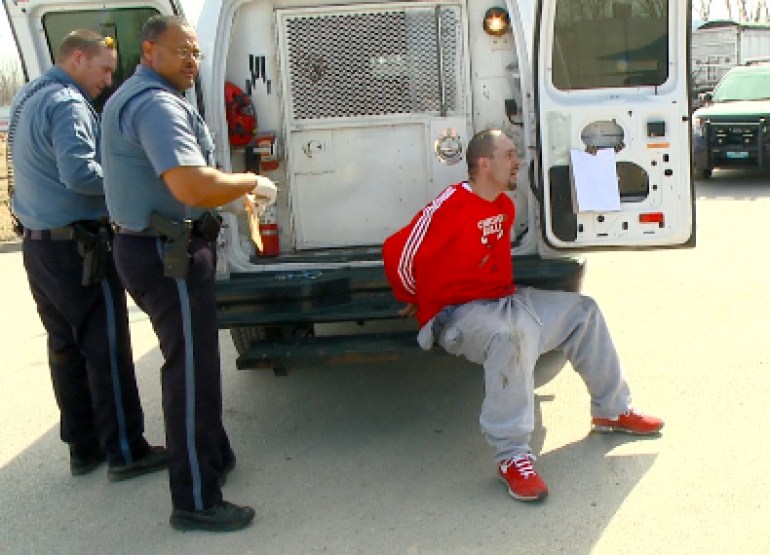 One of the men was arrested at Gardner and Hawthorne after he wrecked his truck and ran away from officers, according to police.
"The danger that he posed to the traffic was just so extraordinary we had to get involved." Sergeant Michael Hutcheson said. "We had to stop him on this one."
Police said at one point the suspect was driving along railroad tracks and officers thought he was going to be hit by a train.
"It was unusual in the way that he was driving in a complete disregard for the public safety," Hutcheson said.
Police said the chase started when they noticed the two vehicles racing each other near the police academy. They then noticed one of the vehicles was stolen from Illinois.
Police said the car headed south on Interstate 35 near Pleasant Valley and began weaving in and out of traffic reaching speeds of 90 mph. The car was even driving on the shoulder to pass other vehicles on the road.
The chase mainly took place along Interstate 435 but briefly went down Interstate 70, according to police.
Police said that the two people involved in the chase were both in different vehicles.
"The cars did end up splitting up, our helicopter thankfully just happened to be overhead when this whole thing started he was able to keep up with the car and call out directions," Hutcheson said.
Accident involving police car at I-70 & Manchester. Manchester closed to traffic. Officers condition unknown #Fox4kc pic.twitter.com/ijuXQg2nL5

— Molly Rose (@MollyRoseTV) March 9, 2015