This is an archived article and the information in the article may be outdated. Please look at the time stamp on the story to see when it was last updated.
KANSAS CITY, Mo. — A few hometown celebrities could be spending the holidays doing their own thing, but instead, they spent the day looking out for some of the metro's youngest.
Chiefs cornerback Marcus Peters has been in the headlines quite a bit this season, but Dec. 23 he shifted the focus to some of his youngest fans.
Kids backed the Gregg/Klice Community Center in KCMO for a coat drive. The event was put on by KC Parks and The Director's Cut Barbershop.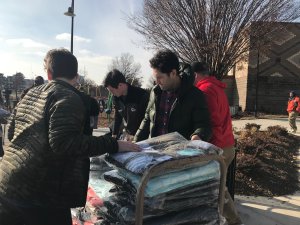 Owner and organizer Armon Lasker says it was great to see both Peters and Rudd support the event.
"It means the world to them, especially from it coming from the heart from the hometown team. From the chiefs," Lasker said.
The controversial Chiefs cornerback passed out about 300 coats with Rudd's help.​
"I like it that my own son can see that you should do what you can to make things easier," actor and KC native Paul Rudd said.
The kids couldn't wait to put them on, and see their heroes.
"I took a picture with him, and I got jackets and stuff, and these are pretty nice," said Kamori Perez.
"He's sharing with the community, and to help us not be cold," said Jamal Nimley.
Kids not only got jackets, but haircuts as well thanks to Lasker.
They also got to play a little basketball.
Something Armon Lasker says is what the season is all about.
"Just to know that the reason for the season is giving. So, just make sure you know that you have a giving heart. It's not about how much money you spend on the gifts, about what's under the tree, it's what's in the heart," Lasker said.​
Each participant in the tournament had to bring a donation of to play.