This is an archived article and the information in the article may be outdated. Please look at the time stamp on the story to see when it was last updated.
BOSTON — Of the countless inspirational stories that rise from the Boston Marathon, the story of Jose Sanchez may make the short list.
The Texan Marine was injured while serving in Afganistan in 2011.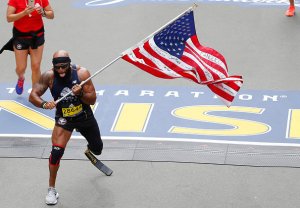 CBS Boston reports that for years, as a recovering amputee following the accident, Sanchez said he kept to himself and was antisocial.
It took five years for Sanchez to even open and acknowledge a gift he received from fellow troops after the accident. It was a large, signed Amercian flag along with notes and stories of inspiration.
Seeing that flag changed Sanchez's outlook.
"Instead of putting it away, I wanted to fly this flag again in their honor," Sanchez told the TV station. "It's for others to be inspired, to be motivated. I don't do it for myself. We live for others — I've learned that throughout being angry, and frustrated, and with all that PTSD. I'm channeling it to be positive and to give back to whatever I have taken away from the community."
Sanchez ran for the Semper Fi Fund, finishing the marathon in 5:46:13.