This is an archived article and the information in the article may be outdated. Please look at the time stamp on the story to see when it was last updated.
[protected-iframe id="ace94957683823ee6e17aa7ae9d02eea-28016812-98078564″ info="https://assets.scrippsdigital.com/cms/videoIframe.html?&host=www.kivitv.com&title=Local%20marine%20trying%20to%20stop%20veteran%20suicides&kw=%26kw%3Dmarines%26kw%3Dveteran_suicide%26kw%3Dhigh_veteran_suicide_rate%26kw%3Dride_22%26kw%3Dbrandons_death&uid=3ab9a56f758a4cfb8c8fb6cb053994b1&purl=/news/local-marine-trying-to-stop-veteran-suicides-through-non-profit&story=1&ex=1&s=kivi" height="100%" frameborder="0″ scrolling="no" webkitallowfullscreen="" mozallowfullscreen="" allowfullscreen=""]
BOISE, Idaho — According to the Department of Veterans Affairs, twenty-two veterans a day commit suicide. A Boise man is trying to help bring awareness to this disturbing trend. Last year after losing a friend he started Ride for 22 to further his cause. December 28th he ended up taking his own life," Steven Exceen said.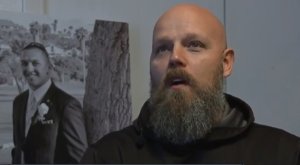 Excen is talking about his close friend Brandon. The two grew up together in Roseburg Oregon and chose the same path in life.
"Both of us were marines, and when a marine dies, it takes away your soul. So he took away a piece of my soul," Exceen said.
After Brandon's death, Exceen just wondered why, and how he could help.
What started off as a motorcycle ride in memory of his friend ended up turning into something bigger. With community help, he started a nonprofit called Ride for 22. The money raised goes directly to families of survivors and educates the public about veteran suicide. He understands the pressures many veterans face when adapting to civilian life.
"Probably one of the hardest transition is coming back from combat," he added. Although Ride for 22 is barely a year old the cause has raised thousands of dollars, and he won't ever forget how he changed one woman's life who lost her husband a year ago.
"A lot of people don't understand that survivor guilt is huge," Exceen said. "and she reached out to me and said that she was done and I was able to get her the resources that she needed." Exceen is not stopping with Ride for 22 the latest project is a nonemergency 911 call line for distress veterans.
You can find out more, or make a donation, to Ride for 22 at their website, or check them out on Facebook.
To help veterans here in the Kansas City metro, you can find various resources here.