This is an archived article and the information in the article may be outdated. Please look at the time stamp on the story to see when it was last updated.
OVERLAND PARK, Kan. — A fire is raging in Overland Park, spreading to surrounding homes as its flames and embers shoot high into the air Monday afternoon.
The fire appears to have started at the new, mixed-use, development apartment complex at College Blvd. and U.S. 69 in Overland Park. One of the apartment complex buildings was reduced to rubble after the fire quickly burned it to the ground. An adjacent apartment complex also caught fire.
The fire has spread to at least eight homes and could consume still more as the winds continue to spread the fire. Jason Rhodes with Overland Park Fire said "there could be as many as a dozen homes" damaged by the fire.
The dry conditions and wood shake roofs are making containment even more difficult for firefighters.
"It's a bit of a war zone down there," Rhodes said, adding that in his ten years with the fire department, he's never seen an incident of this magnitude.
Homes were seen billowing smoke at least a half mile away from the apartment complex. Weather conditions were working against firefighters.
"This fire was so big that the heat exposure was the immediate problem to the south. I think as bad as the winds were blowing was just the direct heat. It was close enough to this complex and that fire was large enough that it was literally just heating these structures up to the point of ignition," Rhodes said.
Firefighter said they are evacuating nearby neighborhoods and that they are fighting at least a dozen house fires and that the fire is hopping from roof to roof.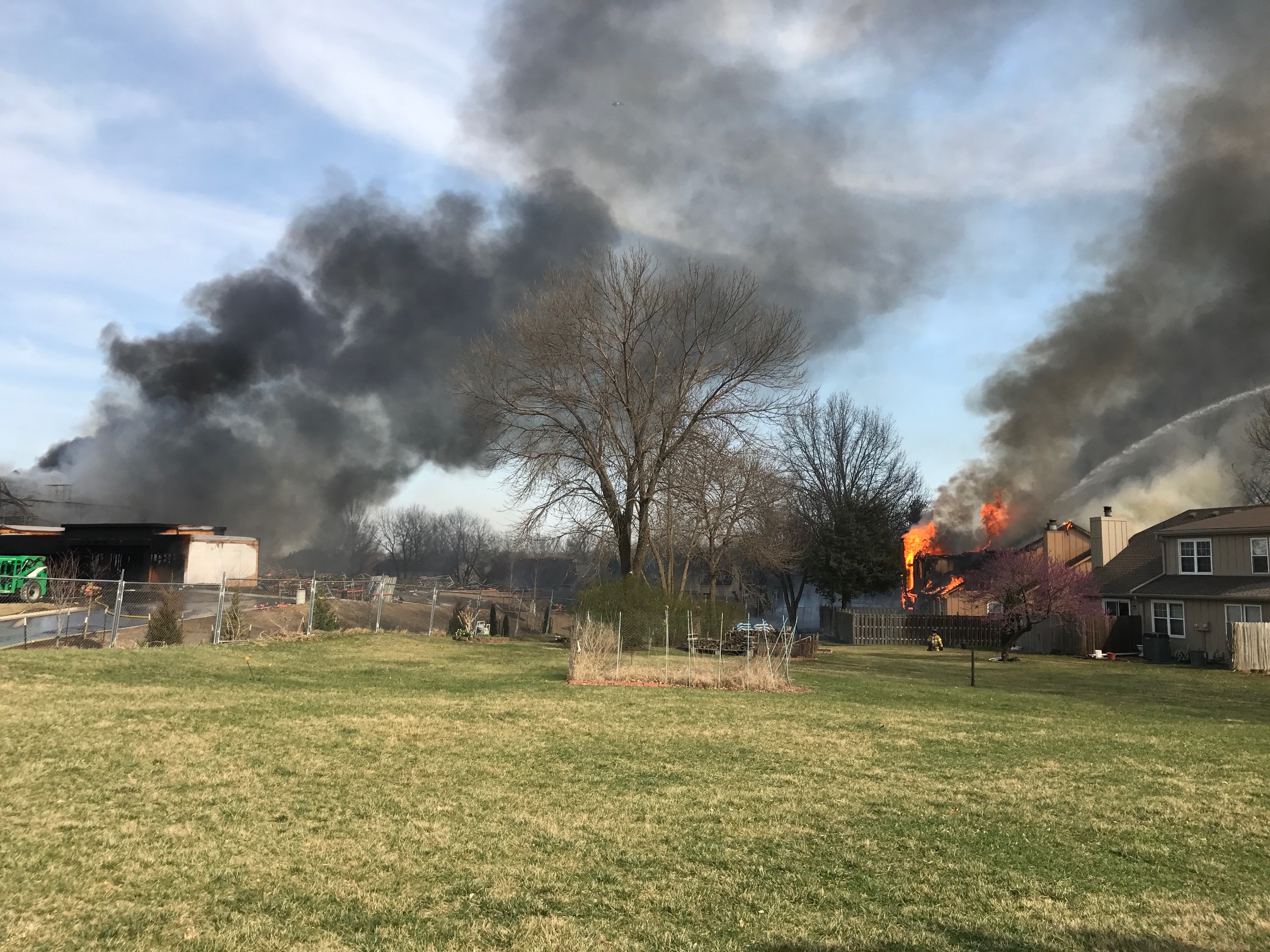 The vast scale of the blaze left firefighters' resources stretched thin. As crews battled the large fires, homes could be clearly seen in flames with no trucks immediately available to help.
The four-story apartment complex, City Place, where the fire likely started was under construction. Construction employees were inside the building working when it happened and they all ran for safety.
Rhodes said the fact that it was an active construction site elevated the fire risk. Propane tanks exploded and lumber was on site.
"Construction sites are dangerous. That's why they put fences around them and post them and ask people to stay out," Rhodes said.
CityPlace is described as a "90-acre mixed use development located in the Kansas City suburb of Overland Park, Kansas in Johnson County. … CityPlace features four office buildings totaling 600,250 square feet on 26 acres, 1,382 multi-family units on 39 acres, 39,860 square feet of retail space on 6 acres and 140 senior living units."
On its website, CityPlace describes itself as:
"….a vibrant mixed-use community that provides residents the opportunity to live, work and play in one energetic and connected neighborhood. CityPlace features commercial office buildings, residences, retail shops and landscaped trails for those who enjoy an active lifestyle."
There have not been any injuries reported at this time.
FOX 4 has a crew on the scene. Look for reports on FOX 4 newscasts.
Large fire a block from the office in Overland Park. #kansascity pic.twitter.com/fmt2JHbK4E

— Dustin Dahlberg (@lil_dollar) March 20, 2017
MASSIVE fire right now at CityPlace in Overland Park. Wow. Wind is strong today. pic.twitter.com/RN6ohfVBKo

— Clifton Alexander (@clifbo) March 20, 2017
There's a large fire burning right now at City Place near College and Switzer. Avoid the area if you can. More info to come from @OPFDMedia pic.twitter.com/no5qMhSEKo

— Overland Park, KS (@opcares) March 20, 2017