This is an archived article and the information in the article may be outdated. Please look at the time stamp on the story to see when it was last updated.
MACON, Mo. — More than 7,000 rhinos have been killed by poachers in just the last two years, left bloodied and dying if not already dead.
Only about 30,000 white rhinos are left in the wild. Critically endangered black rhinos have a population just over 5,000, and there`s only one male northern white rhino on the planet.
"If the numbers stay at the rate they are now, we are walking into a chance of them going completely extinct as a species," said Tim Santel with the U.S. Fish and Wildlife Service.
Groups like the Black Mambas, a women's organization in South Africa, are on the front lines in the battle to protect these gentle giants.
But the black-market trafficking of rhino horns is lucrative, creating an international crime ring that federal investigators say extends from the savannas of South Africa all the way to main streets of America.
And most shocking, one of the largest rhino trafficking operations in U.S. history led investigators to Macon, Missouri.
"Once we started looking into the activities, we were pretty certain that we were onto something as far as rhino horn trafficking in Macon, Missouri,' said Tim Santel, resident agent in charge with the U.S. Fish and Wildlife Service.
The investigation zeroed in on Macon`s well-known Lolli Brothers Livestock Market.
"That was a place where — if you had a rhino horn that you wanted to sell and you Googled where to sell a rhino horn, likely one of the first places that's going to pop up is that auction house," Santel said.
"You know individuals who are involved in rhino horn trafficking are coming to the United States, and they get off of a plane, and the only place they go to is Macon, Missouri," Santel said. "That kind of zeroes in our attention."
Agents involved in U.S. Fish and Wildlife's "Operation CRASH" discovered Macon's connection to rhino horn trafficking in 2010.
During their investigation, federal agents unraveled a web of emails, phone calls and wire transfers between the defendants and rhino horn buyers across the country.
In 2016, federal authorities indicted James Lolli, former Macon Police Chief Darin Scott Ziebarth and the Lolli Brothers Livestock Market for wildlife trafficking and other charges.
The 27-page indictment lists 89 overt acts, primarily by Lolli and Ziebarth.
Records show the defendants met in Kansas City with rhino horn customers from California at least 17 times over two years. The documents also list 26 shipments of rhino horns from James Lolli, the oldest Lolli brother, to the California smugglers.
According to the indictment, the Macon rhino horn trafficking operation garnered more than $900,000 in two years.
"This was organized," Santel said. "We're talking about a lot of money."
Why do the horns from these so called "living fossils" garner thousands of dollars a pound or more?
Followers of traditional Chinese medicine believe rhino horns can cure everything from impotence to cancer, but experts say there's no scientific proof for those claims.
"It's not doing anything," said Cydney McQueen, a clinical associate professor for the UMKC School of Pharmacy.
"It's like your own fingernails," she said.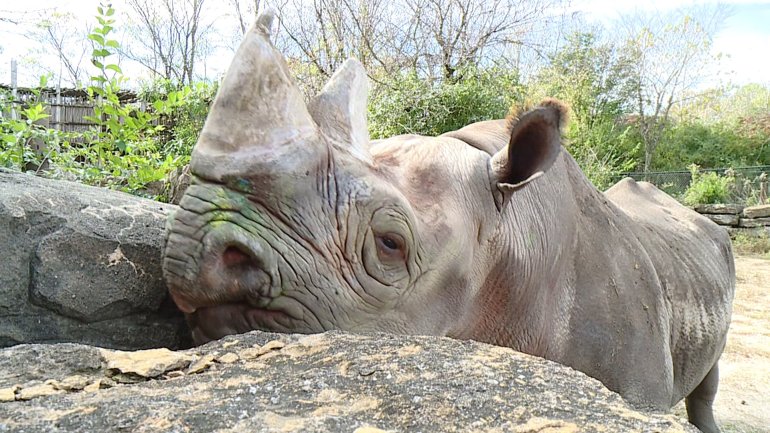 During an exclusive interview at the U.S. Fish and Wildlife repository in Denver, Santel told FOX4 there's another force now driving the illegal rhino horn trade.
"We believe that the rhinos are being poached, and their horns are being smuggled and sold in China and Vietnam and Hong Kong for the carving trade," he said.
Libation cups, carved from rhino horns, are the newest sign of status and wealth in Asian cultures. People there are willing to pay tens of thousands of dollars for them.
"Instead of buying big fancy cars, they're buying libation cups," Santel said.
As long as people are buying rhino horns, the illegal trafficking of these and other endangered species will fund even more sinister criminal enterprises — including terrorism.
"These organized criminal syndicates aren't just involved in rhino horns," Santel said. "They're involved in human trafficking, drugs, guns, terrorism. It doesn't matter if it's rhino horn or not. They're just trying to make money."
And they do. Trafficking exotic animal products is often more lucrative than the drug trade, according to Santel.
So the Black Mambas continue their efforts to combat the slaughter of rhinos and other endangered animals. Not with guns or machetes; their weapon is education. Teaching a younger generation they can make more money protecting the rhinos than poaching them.
Alicia Wedel works with the rhinos at the Kansas City Zoo. She traveled to South Africa's Kruger Park to learn more about the Black Mambas' efforts to protect these gentle giants.
Wedel agrees education is the best way to save the species, and it's why she's not angry at the poachers in South Africa or the alleged rhino horn traffickers in Macon.
"It doesn't make me mad," she said. "I think when you start getting mad, you go against what's important. That's focusing on the conservation. If we spent all our time focused on getting mad about Macon, we wouldn't have enough time to focus on what we really need to be doing to change the bigger picture."
The case against Lolli, Ziebarth and Lolli Brothers Livestock Market is set for trial in May.
Lolli is no longer associated with the livestock market. His three brothers, Tim, Frankie and Dominic, were not individually named in the indictment.
Their attorney, Kevin Regan, issued the following statement:
"Tim, Frankie, and Dominic Lolli steadfastly maintain their innocence in any criminal wrongdoing. They have cooperated fully with the investigation of this case. The Lolli Brothers' long-standing family business helps support many families and businesses in the Macon area, and the brothers are committed to running a law abiding enterprise."
Attorneys for James Lolli and Ziebarth didn't respond to FOX4's calls.
If convicted, the two face five years in prison and $250,000 in fines per count.
One final note: According to U.S. Fish and Wildlife, it is not illegal to own a rhino horn, as long as it was obtained legally. So if you have a rhino horn passed down as an heirloom, you're OK. However, it is illegal to sell them across state lines or overseas.
For more information from organizations protecting rhinos and other endangered species, visit:
Take a rare look inside the Denver U.S. Fish and Wildlife Repository in the video below.