This is an archived article and the information in the article may be outdated. Please look at the time stamp on the story to see when it was last updated.
KANSAS CITY, Mo. — Instead of renaming The Paseo in Martin Luther King Jr.'s honor, Kansas City leaders will take weeks to look at other options.
"I'm offering an opportunity to have an intellectual conversation, racial healing, inclusive, broad conversation about the power, the value, integrity, goals and legacy of Dr. King," Kansas City Mayor Sly James said Friday.
A panel formed Friday has until late May to gather ideas for how to honor King in Kansas City.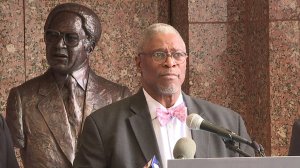 A group of ministers was told "no" when they asked to have The Paseo named in his honor. Then the ministers raised the idea of putting the issue on a ballot.
The group created Friday is looking to avoid a potentially divisive vote.
"I think the mayor is headed in the right direction," said Otis Reliford, a KCMO resident who attended Friday's meeting. "We're about 30 years overdue, long overdue."
People attending the mayor's meeting Friday said it's about time Kansas City honors King.
"Dr. King is a man who throughout his entire life, fought for, advocated for and died for the belief that people should be treated equally, should be treated with respect," James said.
James said now is a prime opportunity to start the conversation. He's asked influential people in the community to sit on a short-term advisory group to look at the issue.
"Give them an overall charge of finding several times to meet with the public and take testimony and input, then meet amongst themselves and offer suggestions," James said.
Just days ago, a group of ministers asked the city's Parks and Recreation Board to rename The Paseo after King.
"Almost every major city in the country has found a way to honor him," said Donna Simon, the pastor of St. Mark Hope and Peace Lutheran Church. "Almost all have a street named after Dr. King. It's perhaps a glaring omission that we do not."
But the board rejected the request in a letter, saying boulevards are named to honor people who have made significant contributions to Kansas City and the parks department in particular.
"We came up against a procedural issue with the way the parks board names boulevards, so we have to navigate that," Simon said.
The group created Friday is meant to help navigate the issue. It will start by gathering ideas from the public.
"Martin Luther King was for everybody, not just black folks," Reliford said. "I think the mayor is doing it right, bringing it out to a public forum. Get everybody's opinion on it."
The city's board of parks and recreation said it's important they explore ways to best honor King's legacy and not rush into anything.
"What should we be doing? Should you just limit yourself to simply naming a street, or should you be looking at multiple options?" said Jean-Paul Chaurand, the president of Board of Commission of Parks and Recreation.
James hopes the advisory group will have recommendations in 45 days. The 10-person panel includes the head of Kansas City's NAACP, the head of the parks department and several local reverends, among others. They're still working on when the public meetings will be held.
Local woman Sandra Shelby told FOX4 on Thursday, April 12 that she is concerned lawmakers are only pushing for the name change to benefit their political agenda.
"I just want to know what's behind all of this," Shelby said. "It doesn't really serve a purpose to actually name Paseo, Martin Luther King, when you can put those concerns and issues–direct those somewhere else… We so worried about naming a street when what we need to focus on is education."
See her full interview in the video player below.