This is an archived article and the information in the article may be outdated. Please look at the time stamp on the story to see when it was last updated.
KANSAS CITY, Mo. — Kansas City Mayor Sly James is launching an initiative to get all four-year-olds access to preschool.
He said the effort is critical to help secure success of young people for the future.
Kids at St. Mark Center in Kansas City enjoy an arts-based education. They're playing and painting as part of their learning that will give them a boost heading into kindergarten.
But a lot of kids don't get to experience that kind of early learning.
"Additional funding would increase access for children and enable children on waiting lists to receive the services needed, which will ensure they`re adequately prepared for kindergarten," said Deidre Anderson, director of United Inner-City Services and St. Mark Center.
James is pitching a concept that would provide that extra money.
In November, voters will be asked whether to approve a 3/8-cent sales tax. It would generate $30 million a year to support preschool for every four-year-old in the city.
"This is our opportunity as a city to send a message pretty loud and clear that we care about our children, we care about their future, we care about their education and, in the process, we care about the future of this city as well," James said.
Currently, the Shawnee Mission and Hickman Mills school districts are the only two districts in the Kansas City metro that offer universal preschool for all students.
Studies consistently show kids who attend preschool are more successful from elementary school all the way through college. The mayor is also convinced getting more kids into preschool would help one of Kansas City's biggest struggles.
"If you're going to attack crime, you're going to have to start with some of the root problem. We know empirically children who start off on the wrong side of the education scale are the ones who are generally involved in crime," James said.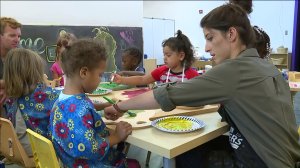 One of the mayor's initiatives in early learning called "Turn the Page" has dramatically helped boost third-grade reading levels.
And he said the next step is making sure every family has access to quality, affordable preschool — to make kids successful.
Dwon Littlejohn said he's seen the benefits firsthand in his kids.
"The building blocks were there, so they didn't struggle and that was important, and I think that`s important to every parent," Littlejohn said.
The sales tax initiative will be on the ballot Nov. 6. You can learn more about it at PreKforKC.com.