This is an archived article and the information in the article may be outdated. Please look at the time stamp on the story to see when it was last updated.
MAYSVILLE, Mo. -- A Maysville junior high math teacher who also served as wrestling coach has been charged with nine counts of sexual contact with a student by a teacher, nine counts of attempted enticement of a child, and two counts of statutory sodomy.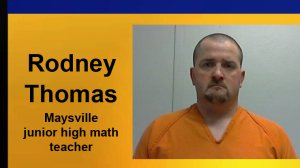 Rodney Thomas, 39, of Cameron, was charged in DeKalb County, Mo., and was to be held in the Davies/DeKalb Regional Jail.
Court documents show Thomas is accused of felony sexual contact with ten students on public school property between August 17, 2016 and January 2017.
The first girl, who's 17-years-old, says Thomas touched her breast at least six times and her genitals at least twice. She said he would often talk to her about sex and his sexual dreams involving her. He kissed her on the neck multiple times, she said, and asked what color of underwear she had on. She says he suggested they go to a motel after wrestling practice and described in detail what he wanted to do to her there. She says he would ask her to take his cell phone into the bathroom to take pictures of her touching herself.  He's accused of attempting to sodomize her on one of those occasions.
The second girl, age 15, says Thomas touched her genitals and sodomized her.
The third girl, a 13-year-old, says Thomas rubbed her back, touched her hair, grabbed her around the waist and took steps to have sexual contact with her.
The fourth girl, a 14-year-old at Maysville Junior High, said Thomas touched her breast and also commented on how she looked in her jeans, using his finger to trace the logos printed on her jeans, enticing her to engage in sexual conduct.
The fifth girl, age 13, says Thomas put his hand on her shoulder and moved it down towards her breast.
The sixth girl, 15-years-old, says Thomas touched her butt, stared at her and told her, 'G**damn you are going to get me fired."
The seventh girl, age 14, says Thomas wrapped his arm around her waist, commenting on how nice her pants looked, pinching her on the upper portion of her leg.
The eighth girl, age 13, described Thomas grabbing her around the waist and pulling her close to him while she was at his desk seeking help on a math problem.
The ninth girl, age 13, said he also grabbed her around the waist and pulled her toward him while she was seeking help for a math problem.
The tenth girl, age 14, said Thomas rubbed her lower back with his hand.
Every alleged victim said all contact occurred in Mr. Thomas' classroom at Maysville R1 School, 601 West Main Street.
Bond was set at $150,000.  Maysville, Mo., is about 85 miles north of Kansas City.