This is an archived article and the information in the article may be outdated. Please look at the time stamp on the story to see when it was last updated.
MERRIAM, Kan. -- Neighbors at a quiet apartment complex are changing their routines following what police report as a sexual assault Thursday night.
Investigators say the sexual assault happened at the Pinegate Apartments at about 9:30 p.m., Thursday. A woman told police that a stranger sexually attacked her. She described the man as 35-39 years old, with a stocky build, shaved head and a short beard, wearing blue jeans and a sleeveless white shirt. She also told investigators he was driving a mid-90s model SUV, possibly a Chevrolet Suburban with rust on the rear wheels. Police say the victim was treated at a hospital and released.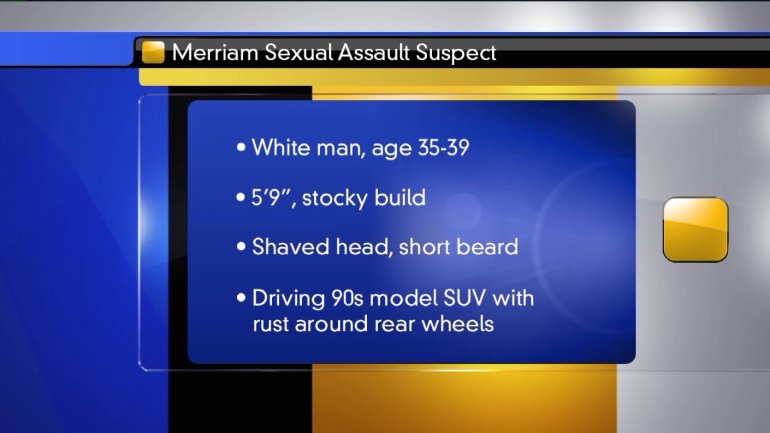 Neighbors said the area is quiet and safe; the police station is just a couple blocks away. Frankey Stanley has lived in the area almost two years and said she walks outside daily.
"As much as I would love to continue to exist here with no fear, the reality is that I absolutely have to change the way I operate here," she said.
Terry Hodges was just getting home from work early Friday morning when he saw police lights flashing.
"I thought they just pulled over a speeder or something. They had patrol cars set up down on that end of the street," he said.
Merriam Police Captain Troy Duvanel said, "The victim did not know the offender, the suspect, so there's a public safety issue there. We don't have a lot of calls to this area, certainly not a lot of sexual assaults."
Neighbors offered compassion to the victim.
"I understand she's relocating to get away from the memory." Stanley said, "I can certainly understand why she would feel the need to leave and my heart goes out to her."
Police did not get into the details of the attack and the victim did not want to speak with FOX 4.
If you know anyone who matches that description, investigators ask you to call the TIPS Hotline at (816) 474 - TIPS.