This is an archived article and the information in the article may be outdated. Please look at the time stamp on the story to see when it was last updated.
CLAY COUNTY, Mo. -- It was a moment that changed a 7-year-old girl`s life and is improving people's lives around the world, too.
Addy Moffitt is 9 years old now, and she`s growing up in a family of runners. Two years ago, her church in Clay County got a visitor, Maureen, a girl from the African nation of Kenya where clean water isn't available everywhere.
That's what inspired Addy to raise money for World Vision, a nonprofit that seeks to provide clean water to children in impoverished nations.
And given that Addy loves to run, races seemed to be the way to make the cash. World Vision says Addy is their biggest fundraiser from Kansas City, having collected close to $21,000 in 2017. So far in 2018, Addy has raised more than $2,000.
"I found out that kids are dying because they don't have clean water. They don't deserve to live there. They don't have all the things that we do," Addy said.
Addy's family said she's even passed on birthday gifts and goodies from Santa, asking loved ones to donate instead.
"I'm hoping it will go toward clean water, and it will help people just like me and just like everybody so they can have clean water," she said.
And this weekend, she'll try to run down more dollars, taking on the World Vision 6K on Saturday morning in Kansas City.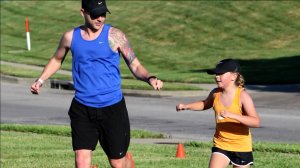 Addy's dad, Bryan Moffitt, said he's thankful that his oldest child loves to race -- and to use her big heart to help strangers in far-off lands.
"There's children who don't have the same opportunity as our kids have," Bryan Moffitt said. "We have to do our part to help those kids who don't have the same opportunity and to help her understand that."
That meeting two years ago might shape Addy's future. She said she intends to become a Christian missionary and continue to help people in less-fortunate nations.