This is an archived article and the information in the article may be outdated. Please look at the time stamp on the story to see when it was last updated.
OVERLAND PARK, Kan. — Five-year-old Ashlyn Julian spent Friday at an Overland Park playground happily swinging and singing the Shawn Mendes song, "In My Blood."
This week marks five years since doctors at University of Kansas Hospital used super glue to stop the blood that was seeping into the Olathe baby's brain.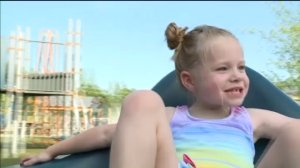 The story made international headlines. But when asked Friday if she'd ever heard of the amazing "super glue baby," Ashlyn said no.
The first sign of trouble for Ashlyn was a seizure when she was about three weeks old. Doctors later determined she'd had a stroke and was bleeding on the brain from a ruptured aneurysm.
"You go from a regular room to intensive care and to have round the clock people staring at her and freaking out about stuff you start to get to that anxiety that something is really bad here. Then you get a different doctor who says if she ruptures again it could be fatal," her mother Gina Julian recalled.
Extremely rare in infants, Dr. Koji Ebersole had to figure out how to stop the bleeding in tiny capillaries too small for his tools.
"Her odds of survival just weren't there," Julian said.
His solution? A dab of super glue sent through a tiny catheter into the far recesses of her brain. The procedure was hailed as a medical miracle, but Ashlyn would spend 28 days in intensive care at extreme risk of another setback.
Her mother also had questions about the innovative procedure.
"What happens to this glob of super glue in your head? Does it dissolve? Does it stay there? Does she permanently have crazy glue on her brain?" she wondered.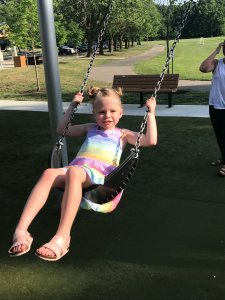 Julian would get her answer two years later as scans on Ashlyn showed the glue had fully dissolved. Now Ashlyn is pretty much like any other little girl about to start Pre-K.
"She loves to swing and climb and jump," Julian said.
Ashlyn has had some physical complications from that stroke, including one leg that's smaller. But her mom is happy she seems to meeting all cognitive benchmarks.