This is an archived article and the information in the article may be outdated. Please look at the time stamp on the story to see when it was last updated.
PECULIAR, Mo. -- It's not unusual to see signs prohibiting people from bringing firearms into businesses. But one business here encourages customers to carry weapons.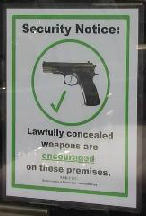 Ever since owner Katie Kalinka put a sign on the front door of Katie's Cafe saying "Lawfully permitted weapons are encouraged on these premises," she said she's received an outpouring of support.
"It's all over Facebook," Kalinka said. "People have gone crazy over it. They love it. I've had people come back to the kitchen and they are high-fiving. 'Thats right, this is America!' That kind of thing. It's been a very positive reaction."
She said in a town with good old boys and hard working farmers and ranchers, many of her customers carry concealed weapons anyway. She wants everyone to know that people should feel safe here.
Her restaurant is primarily a cash business, making it a tempting target for crooks. Burglars have broken into her business once before and law-abiding citizens believe exercising their gun rights here will make criminals think twice.
"If people are worried about somebody having a gun and carrying it illegally, coming in and trying to start something, maybe that will deter them from starting anything, or trying anything," said Dan Vest, a regular customer of the cafe.
Kalinka admitted that this is easier to do in a small community where most people know each other. But she said it does not bother her if a new face shows up carrying a weapon, because she believes in today's times, people need to be able to protect themselves.
Kalinka said the sheriff and police chief are regular customers. But she says law enforcement can't be everywhere it's needed instantly. That's why she believes people feel safer when they have the ability to defend themselves.