This is an archived article and the information in the article may be outdated. Please look at the time stamp on the story to see when it was last updated.
NORTHMOOR, Mo. -- A Johnson County woman got stuck with a $1,300 tow bill to take her car less than 20 miles.
Maggie Grillot was on her way home from work in Kansas City last week when she couldn't avoid a crash on southbound Interstate 35. She called for a tow, but another company's truck beat them to it.
"So I went ahead and went with them to at least get off the highway and out of harm's way. I had debris flying everywhere," Grillot said.
She told the 24/7 Towing and Recovery driver she wanted the car taken to an McCarthy Collision Center in Olathe, next to McCarthy Chevrolet.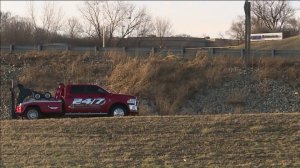 "He kept informing me he had his own body shop and was trying to get me to take it there, and I refused," Grillot said.
She watched as the driver towed her car onto the dealer's lot and went inside to talk with the mechanics who were still there at 6:15 p.m. Wednesday evening.
"Next thing I know, I'm showing up in the morning to get my garage door opener that I forgot, and my car's not there!" Grillot explained.
So what happened to her car?
Managers at the auto body shop, even Olathe police called 24/7 Towing and Recovery and got the same message that the "user hadn't yet set up their voicemail."
FOX 4 went to the listed address for 24/7 Towing and Recovery on Waukomis Drive and found it next to Northstar Auto Body, a Northmoor auto body shop that's no stranger to the FOX 4 Problem Solvers team. Northstar's owner said the tow company rents his lot and encourages customers to use his shop, but he isn't tied to 24/7 Towing financially.
Police finally tracked down Grillot's car, and the company agreed to tow it to Olathe. But she was shocked when she got the $1,300 bill.
"They put two charges. They traded out trucks. They had a holding fee. They had labor fees -- all this extra mumble jumbo that should have never happened," Grillot said.
Aaron Caster owns Caster Towing and Transport. He said he warns customers about companies who wait on highway ramps for the next wreck.
"If that happens to you and you get that $1,300 tow bill, you hate tow truck drivers in general now, so it's bad for everybody involved," he said.
24/7 told Grillot they didn't leave her car the first time because there was no one to pay them on site at the time they arrived. Caster said tow truck companies know they will get paid by reputable companies quickly, but some use rush hour wrecks to their advantage.
"These guys are going to show up at 6 o'clock, saying, 'You aren't giving me a check for the tow bill. You aren't getting the car.' Then they load it back up, take it to their tow lot, charge for that tow again plus the storage and another tow, and they accumulate it and wrack it up instantaneously," Caster said.
Grillot said if she had it to do over again, she would have taken her chances on the side of the highway. She also had to pay for a new key after her vehicle's key was somehow lost in the process.
"Anyone who just shows up on the scene who you did not personally call, tell them to kick rocks," she said. "Don't do it."