This is an archived article and the information in the article may be outdated. Please look at the time stamp on the story to see when it was last updated.
KANSAS CITY, Mo. -- Ask almost any educator and they'll likely tell you early education has a major impact on children's futures.
At the Ervin Early Learning Center, part of the Hickman Mills School District, almost 300 4-year-old students are starting their education. The first day of classes was Wednesday.
"We do quite a bit for our pre-K curriculum," said Jillian Meriweather, coordinator of early learning programs for the district. "We do purely academic things that you think of, like letters and shapes and language skills. But we also do social emotional skills. We focus on cognition of our students."
The exposure to all of those things for that age group is crucial.
"Ninety percent of your brain develops between birth and the age of five," Meriweather said. "So what we know is the connections that are made before kiddos turn six are hugely important for their outcomes later on in life."
Long term, Meriweather said pre-K increases the likelihood of academic success.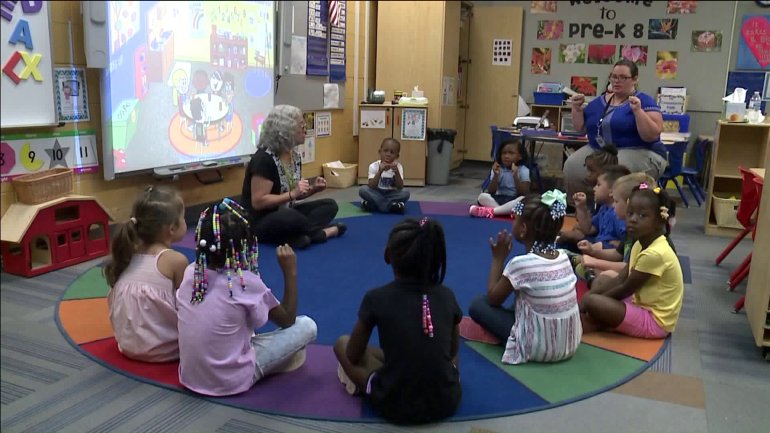 "What we've seen over time in studying pre-K is that it increases their outcomes of graduating high school, increases their ability to go to college, outcomes in terms of how much money they make later in life. It decreases the rate of teen pregnancy. It decreases the rate of criminality we see later on," Meriweather said. "It's a lot of soft and hard skills that students are able to acquire when they have a strong start in pre-K."
She's seen kids start kindergarten behind because of lack of early education.
"I was a kindergarten and a pre-K teacher myself, and you can tell the difference between those kiddos who have had exposure to high quality pre-K and those that have not had that opportunity," Meriweather said. "Even small things like awareness of how to sit during circle time, how to walk in a line and how to use your words with a friend are things that kiddos that don't get the advantage of pre-K miss."
Earlier this year, the KC Chamber launched its grant funded "Pre-KC" campaign. FOX4 is a partner, and the campaign's goal is to raise awareness about the need for early education.
"We also sent more than 3,000 subscription boxes to various families throughout the KC metro with tools and resources they can use to ensure school readiness when they start kindergarten," said Scott Hall, senior vice president of the chamber.
But Hall is also looking at the bigger picture. He said when kids start their education early, it can add to the metro's economic prosperity down the line.
"For Kansas City to be a great community going forward, and I mean all of greater Kansas City, we have to have the workforce of tomorrow and that starts before a child even starts kindergarten," he said.
Pre-KC is now in Phase Two. The KC Chamber's goal is to talk to 50 organizations about why early childhood education is important and provide resources and connections to  those organizations so they help employees get their children on track.