This is an archived article and the information in the article may be outdated. Please look at the time stamp on the story to see when it was last updated.
GRANDVIEW, Mo. — A metro family says the pain is unbearable, the grief overwhelming.
"Meshon was a very loving, caring, sweet individual that would give anything to anybody. She touched a lot of souls," Darnisha Harris said of her aunt, Meshon Cooper-Williams.
They can't believe they're mourning their 43-year-old loved one.
"I just remember she was always there when I was a baby and growing up. She definitely was the rock of her family and what happened to her just isn't fair. She didn't deserve that," DaRon Cooper said of his aunt.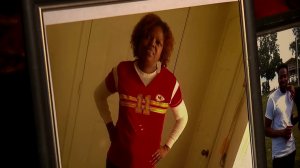 Family members say Cooper-Wiliams was last seen on July 6 leaving her job at a Subway restaurant in Overland Park. When the 43-year-old Kansas City woman didn't call her son or any of her relatives for hours, the family knew something was wrong.
"It just wasn't like Meshon," Harris said. "She had several health issues, including lupus, rheumatoid arthritis and congestive heart failure, and she had to take her medications every day. And for her not to call us at all was strange."
Her relatives said about 13 hours after she was last seen, police found Meshon's car abandoned and still running near a park at 7th and Myrtle in Kansas City.
On Saturday, police said they found the missing woman dead inside the Shawnee home of Randall Lee Kidwell. He's now charged with Cooper-Williams' murder.
"We've never seen that man, and we don't have any idea if she knew him," Harris said. "I just wonder why would a person do this to such a beautiful soul? It's a really bad heartache. It hurts unbelievably."
Now, the family prepares to bury their loved one amid a painful mystery filled with lots of questions.
"Police really haven't told us much. We may not get a lot of answers until we go to court," Harris said. "As a person I forgive him. But I do believe if you do the crime, then you do the time, and I do believe he deserves to sit in jail. I want justice for Meshon."
"I just have to be strong for my family because everybody is breaking down in different ways, you know, trying to go through the process of grieving, and so it's tough," Cooper said. "It hurts a lot, and I just want Kidwell to be convicted and get the maximum penalty he can."
In the meantime, a Go Fund Me page has been set up to assist her family with her funeral expenses.