This is an archived article and the information in the article may be outdated. Please look at the time stamp on the story to see when it was last updated.
CLAY COUNTY, Mo. -- Despite recent rain, the ongoing drought continues to cause serious problems, even at the state parks where Missouri farmers can get help.
This week Missouri Gov. Mike Parson announced emergency access to water and hay. Missouri farmers will now be able to pump their own water from one of five state parks and 28 conservation department areas.
At Watkins Mill State Park in Clay County, farmers are already calling for help, according to park manager Mike Beckett.
"Missouri State Parks is here to provide assistance to the public. We want to help provide water for these local farmers," he said.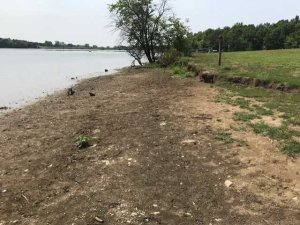 But the lake at Watkins Mill has been affected by the drought as well. Beckett said it's down quite a bit compared to this time last year.
Fortunately, it still has enough to help.
Beckett said farmers can pump up to 5,000 gallons of water from the lake per family farm. But farmers need to bring their own equipment to pump the water.
"Farmers we spoke with say this is vital to helping them through the next several months of this drought," Beckett said.
To make arrangements, you can call 573-751-4115, ext. 3209. For more information on where emergency access is located, visit this site.