This is an archived article and the information in the article may be outdated. Please look at the time stamp on the story to see when it was last updated.
PARKVILLE, Mo. -- A metro group is trying to fully restore a historic school in Parkville where freed slaves were taught, but they need a bit of help from the community.
In the decades after the Civil War, freed African-American slaves made their way to Parkville to ensure a brighter future for their children.
The historic, red brick Banneker School went up near downtown Parkville in 1885 to teach freed slaves and their children how to read and write.
"At the same time that Mr. Park set aside the land for Park College (now Park University), the land over in this area was designated for the school for African-American children," said Kathy Persley with the Banneker School Foundation.
Over the years, the one-room schoolhouse fell into disrepair and was nearly torn down until an ambitious renovation project saved the historic structure.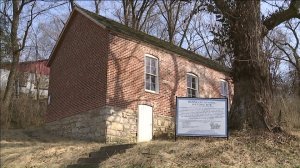 "I think it just speaks to the contributions that African-Americans have made, not only to Parkville but also to the community in general," Persley said.
The Banneker School Foundation still needs about $75,000 to fully restore the building so it can serve as a museum and interpretive center for future generations.
"There are still some people here in Parkville that have direct descendants who went to the school," Persley said.
If you'd like to contribute to the Banneker School renovation, you can find more information here.