This is an archived article and the information in the article may be outdated. Please look at the time stamp on the story to see when it was last updated.
KANSAS CITY, Mo. — Harley-Davidson says it will shutter its Northland assembly plant in 2019, leaving nearly 800 people without a job.
Workers showed up for their shifts Tuesday, got called into a meeting and then learned the crushing news.
"Where is my next job? What am I going to do benefits wise?" plant employee Dominique Alstrok asked. "I have three kids and a single mom. So right now I'm going to go home, eat my breakfast and then we'll go look for another job."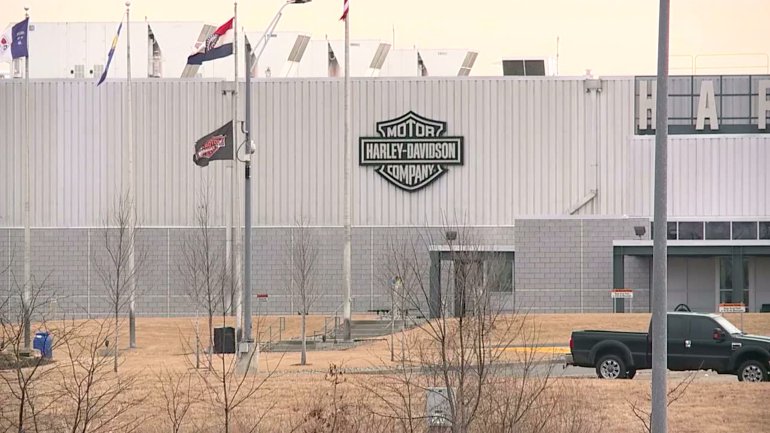 While it's a natural worry, local employment experts say, overall, Kansas City economy's in pretty good shape.
"All told, it's a blow, but Kansas City might be a good area in the country that could absorb these manufacturing job losses because we do have some momentum within that industry right now," said Jeff Pinkerton, senior researcher with the Mid-America Regional Council.
The manufacturing industry has actually added more than 5,000 jobs in the area since 2013, and that's while companies have experienced a massive shortage of skilled workers.
"When people do get laid off, people always call us to say, 'How can I get my hands on these people?' It's not like, 'Oh my gosh, where am I going to go?' It's the reverse," said Clyde McQueen, president of the Kansas City Full Employment Council. "So you see the demand. Where before we had 50,000 people looking for Harley, now we've got a lot of companies looking for people that work for Harley."
McQueen was involved in the process to get Harley-Davidson to Kansas City in the late 1990s. He said the mission now is to make sure the 800 highly skilled and sought-after workers don't relocate.
"We're going to try to make it real hard for them to pick up and go because A) we can't afford it as a region and B) advanced manufacturing is one of our target sectors as where we invest our resources," McQueen said.
Harley employees immediately qualify for free resources through the Full Employment Council from job search help to training if it's needed.
Experts are confident major projects planned for the region will only help bolster opportunities for economic growth.
"We're centrally located with two great intermodal facilities with KC Southern and BNSF," McQueen said. "Now we're going to have a great airport. We're sitting right in the sweet spot in terms of how we can prepare for the future."
The one thing you can't replace is the cool factor of having an iconic international brand made in Kansas City.
However, local and state teams are already working hard both on getting the displaced workers new jobs and, down the road, potentially finding anew use for the Harley-Davidson plant building in the Northland.
A spokesperson for the Missouri Department of Economic Development said:
"We became aware of the company's plans this morning and immediately activated the Employee Transition Team, formerly the Rapid Resource Team. The ETT and the local Job Centers will be able to help employees with everything from resume building and interviewing skills, to connecting with employees that are hiring to finding information on unemployment compensation and COBRA Health Insurance."
KC Mayor Sly James posted his thoughts on Facebook:
"Although we are disappointed that Harley-Davidson will be closing its plant, it's also important to realize there are more and more opportunities in our region everyday for new jobs with bright futures as well as opportunities for retraining. For example, our partnerships with LaunchCode and TechHire have led to hundreds of Kansas Citians becoming trained for IT and advanced manufacturing jobs with exciting futures, and projects like the new single terminal airport and downtown convention hotel will require thousands of skilled workers."