This is an archived article and the information in the article may be outdated. Please look at the time stamp on the story to see when it was last updated.
KANSAS CITY, Mo. --  The Masters has been called "a tradition like none other," and a junior golfer from the metro got his moment on Magnolia Lane this week.
Golf fanatics know The Masters is underway, as the PGA Tour's greats gather in Augusta, Georgia. The opening round of this year's tournament began on Thursday morning.
Junior golfer J.D. Dintino is playing for more than trophies.
When J.D. tees one up, the 13-year-old is never alone. The Kansas City North native can claim experience at Augusta National.
On Sunday, the sixth-grader from St. Patrick's Catholic School placed fifth in the National Drive Chip and Putt Championship, a golf skills competition for kids that brings the game's best juniors to the home of The Masters. During that contest, Dintino, who stands 5-foot-5, cracked one drive measured at over 228 yards while competing in the boys 12-13-year-old division.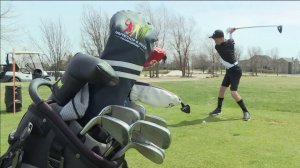 Dintino said he wouldn't love golf without the love of his mother, Wendy, who got him hooked on the game when he was barely old enough to walk.
Wendy Dintino, 35, didn't live to see her boy excel at the game she enjoyed. In 2010, Wendy was already fighting cancer when she died of a massive stroke.
"She would always pick me up and ask me how my day went. I would always say because I went golfing that day. I love golf," Dintino told FOX4's Sean McDowell.
"She died when he was five," Jimmy Dintino, J.D.'s father, remembered. "I decided I would keep him in golf as long as he wanted to play."
The Dintinos say J.D. plays on because Mom would have wanted it. J.D. actively plays in U.S. Kids Golf Kansas City tour, where junior golfers ages 8-14 compete each weekend under strict tournament rules while sharpening their skills. He plays in that league's 13-14-year-old boys division, which has a number of players who are targeting college golf.
"There's been a couple of tournaments he's played in in the past where he'd hit a ball trying to go over a tree, and it would go through the tree or hit a limb just enough that it puts it beside the pin. He'd tell me, 'I think mom did that'," Jimmy Dintino said Thursday.
Three times per week, J.D. returns to Staley Farms Golf Club to practice up. He said he remembers his mother taking him to that course when he was just a tot. In that special moment at Augusta, J.D. said he believes there was a special spirit looking on.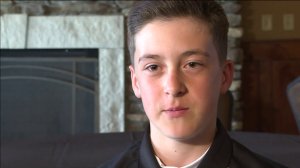 "When I was out there, I kind of imagined that she was standing there with me right next to my dad on everything," J.D. said while fighting back tears. "She was kind of just smiling and telling me good luck and have fun."
J.D.'s father said his late wife would be proudest of her son's passion and drive for golf. J.D. said that's what keeps him swinging toward even bigger targets.
The Dintinos aren't finished for the season. J.D. is also preparing to play in the U.S. Kids World Championships in Pinehurst, North Carolina. He'll make his fifth appearance in that worldwide event this August.
Leawood's Michael Jorski, 8, also knows his way around Augusta National, having placed sixth in his age group at the Drive Chip and Putt Nationals.
The next group of young players will try to qualify for next year's contest beginning in June. You can learn more about the 2019 edition of the contest by clicking here.