This is an archived article and the information in the article may be outdated. Please look at the time stamp on the story to see when it was last updated.
KANSAS CITY, Mo. — At 57 years old, Craig Brunner said many of his favorite memories took place on his bike.
"I just miss being on the motorcycle, miss our trips, miss that open air," his wife Diane Brunner said.
After being diagnosed with an aggressive cancer, he was forced to stop riding. But he wanted one last ride.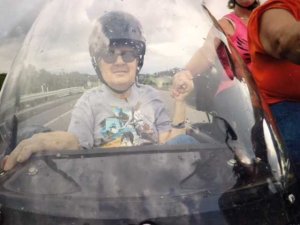 On Thursday night, Crossroads Hospice and Worth Harley Davidson helped grant his wish. Brunner joined his wife back in the saddle for the first time in nearly two years.
"Unbelievable that it`s really coming true, that I get to go for a ride," he said.
Brunner said the excitement made all his aches and pains fade away.
"For two years we've been fighting this cancer, and we really have not been able to do much. So to have this opportunity is just awesome," Brunner said.
Dozens of other other Harley Davidson riders joined them for the trip. The group ended the evening at Worth Harley Davidson's Bike Night.