This is an archived article and the information in the article may be outdated. Please look at the time stamp on the story to see when it was last updated.
LEAWOOD, Kan. — Clint Robinson was just trying to make his way back home to Leawood from New Orleans when he suddenly found himself just yards away from a bizarre attack on a TSA security checkpoint.
"I know what gunshots sound like, but it was one of those things that was out of place and out of time, to be in an airport where you feel relatively secure," said Robinson. He was waiting in line to board a Southwest Airlines flight at Louis Armstrong New Orleans International Airport in New Orleans on Friday night when he says four gunshots rang out through the terminal.
Authorities say that 63-year-old Richard White attacked the security area with a machete and wasp spray. On Saturday, officials said that White, who reportedly had a history of mental illness, also had a bag of Molotov cocktails as well as smoke bombs and gas cylinders in his car.
White was finally shot three times by a sheriff's lieutenant and later died of his wounds on Saturday at a New Orleans-area hospital.
A TSA agent suffered a bullet wound in the attack after she was accidentally shot by the law enforcement officer. She was not seriously injured.
"You kind of look around to see how other people are responding," said Robinson. "We quickly hit the ground, but there was still an awful lot of movement around us."
Robinson, along with his fellow passengers and airport employees were quickly moved down a jetway, where officials could close the door and keep people safe from any assailant. He says that White's choice of weaponry was odd.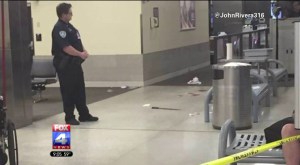 "It was something you`d use to cut down brush in the backyard," said Robinson, who says he and his fellow passengers were kept in the jetway for about 20 minutes before they were moved to another terminal, and finally had an uneventful ride back home to Kansas City.
"When we arrived in Kansas City, the flight attendant came on and started playing the song 'Happy' and we all clapped because we were safe at home," said Robinson, who said the entire ordeal only delayed his travel by about an hour and a half in total. "She said, 'Now get off the airplane, I want to go home!'"