This is an archived article and the information in the article may be outdated. Please look at the time stamp on the story to see when it was last updated.
KANSAS CITY, Mo. — A semitrailer fire shut down northbound Interstate 35 for hours on Tuesday, trapping thousands of drivers. But for some, the headaches continued beyond the massive backup.
A day after a load of hay caught fire on a semi, investigators are still trying to determine the caused.
Meanwhile, Ashley Emerson is making it work without his car. He owned one of the two cars destroyed Tuesday near the downtown loop.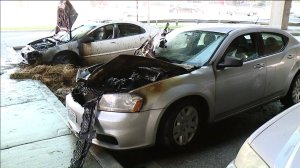 A truck driver hauling hay stopped on I-35 when another driver signaled the hay was burning. When the truck stopped, burning hay fell from the interstate overpass and onto Emerson's Chrysler 300 parked in a lot below.
Emerson is a a tattoo artist at Catalyst Arts Collective, which just moved to the Crossroads District from Independence. Tuesday was their first day open at the new location.
A customer came running into the shop late Tuesday afternoon to tell Emerson his car was burning.
"I had to run out, and I had gloves on, ready to tattoo, so I had to just break everything down and just work it out," he said.
Now Emerson is facing the inconvenience of not having a car when he needs one.
"Last night, I was a little hungry and couldn't go through a drive-thru, so it'll be nice to get up and moving again," he said.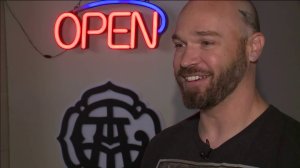 But Emerson said he's trying to take it all in stride and is thankful no one was injured.
"Until all this gets sorted out, just got to keep my chin up and keep moving," he said.
His friends are offering him rides to and from work. The semi truck owner paid to have his car towed, and now he's just waiting for his claim to go through the insurance company.