This is an archived article and the information in the article may be outdated. Please look at the time stamp on the story to see when it was last updated.
KANSAS CITY, Mo. — The joy of parenting is one many people want to experience.
For some moms and dads, once or twice is enough. Other families who struggle with infertility would give anything for the opportunity to bring their baby home.
And one local mom is choosing to give birth for the fifth time — but she and her husband aren't the baby's parents.
Every afternoon around 3 p.m., Meg Daughtery welcomes home her tribe. She and her husband Peter always knew they wanted four children. The faces of their four kids fill the walls of their home, and their laughter and personalities fill the space.
It's a life Meg wouldn't trade and an opportunity she wants everyone to have.
"Family is important," she said. "I can`t imagine not being able to have a family when that`s all you want to be."
It's the reason Daughtery is now pregnant a fifth time.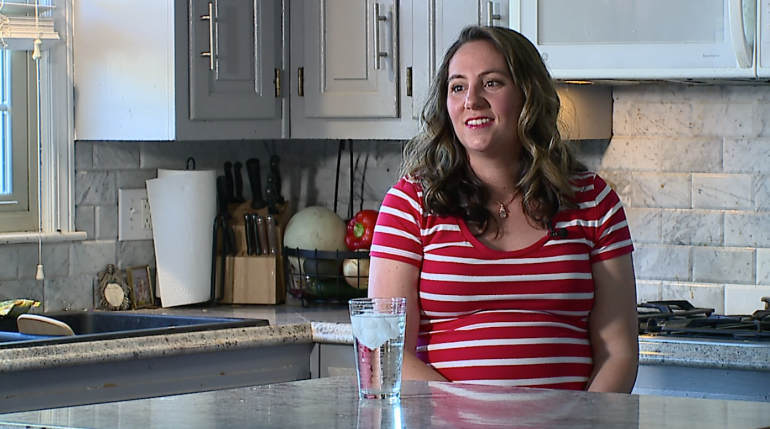 But the baby girl she's now carrying won't be joining the Daughtery family. Instead, she will have a new home with her biological parents.
"It's just a neat process honestly. I want to just give someone a baby!" Daughtery said.
She's the oven, if you will.
"I just want them to be there, and I just want them to take her, and I just want her to see them and hear their voice," she said. "And to me, that`s the moment I cannot wait for. That`s the moment I`m so excited for."
The process for Daughtery started 14 months back.
"Circle Surrogacy is the agency that I chose, and so I just kind of reached out to them, and it was like a whirlwind," she said.
She read about the agency online then sent in her application.
"There`s so much legal stuff that they do first," Daughtery said. "They need to get all of your medical records to make sure that you`re OK to have another baby in general and then somebody else`s baby."
The screening process was rigorous and delved into every aspect of who she is.
"There was like a two- or three-hundred questionnaire about literally everything about you," she said. "Then you have all these Skype calls with these people. These are like 2- and 3-hour-long interviews."
Once accepted, the next step: learning whose baby she would carry.
"You've filled out your profile. You've sent pictures and described your lifestyle and all those sorts of things, and then they send you some matches that they think you would like," Daughtery said.
She and Peter found a family that fit on a day marked with meaning.
"We actually talked to them on Father`s Day so it just, I don`t know, something about that just made it seem like the right time," she said. "The right family, and everything just sort of fell in place then."
Daughtery then prepped her body as instructed by the doctors at their fertility clinic. She described giving herself small shots for a couple weeks, followed by "the big kahuna" shot once every 24 hours, for up to three months. She said the hormone shots led up to the transfer of the parents' fertilized embryo into her body.
"Basically tricking your body into thinking it`s pregnant before they actually implant the embryo," she said.
The embryo from the intended parents was put in place last October. Daughtery is due July 10.
She said this process has come with its share of questions.
"It was just a lot of why," she said. "Why would you do that? Why would you, in a way, play God? Why would you mess with that? If they were supposed to have a baby, then they would have a baby."
Her response is simple.
"I just say God made the doctors who made it possible, so if He`s okay with them being that smart to do it, then I don`t see why it`s bad," she said.
She and Peter also had to explain it to their kids.
"We just kind of described that, you know, I was able to have all four of them in my tummy," she said. "And some people want to have a baby, and they can`t have it in their tummy. So I`m just going to hold their baby in my tummy for them and when she`s born, they'll take it home."
Circle Surrogacy's website shows surrogate moms can earn tens of thousands of dollars, plus bonuses, given in split payments. Daughtery said the money is nice, but it's not what motivated her.
"Really we`re just trying to save it and put it to the side because it`s unexpected," she said. "We`re trying not to actually use it."
There are two more months before the little miss makes her arrival. And though she won't be joining this family, Daughtery is glad she's able to help another woman hold the title "Mom."
The birth parents in this case fully supported Daughtery's choice to share her story of surrogacy. The agency they work with honored their wish to stay private.