This is an archived article and the information in the article may be outdated. Please look at the time stamp on the story to see when it was last updated.
KEARNEY, Mo. -- Families and hospitals around the country spend September focusing on raising awareness for kids with cancer.
Angie Smith and her son Daxton are inseparable now, but something almost stole from them the chance to make these memories.
"I would sit him up on the carpet as he was trying to get to that milestone of sitting and he would fall backwards or he'd fall to the side," she said.
She learned in 2015 that 9-month-old Daxton had a tumor the size of a grapefruit in his tiny frame. It weighed 4-1/2 pounds.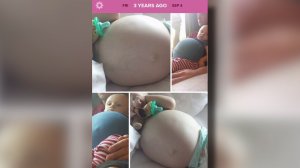 FOX4 first introduced you to the metro mother and son back when Daxton was diagnosed. Smith posted on Facebook, seeking help with yard work, and a kind couple stepped in and offered to take care of their lawn for the rest of the year. The families still remain close today.
In the next three years, Daxton would go through treatment, surgeries, trips back and forth to the hospital. For now, his scans are clear, and he's doing what any 3-year-old should.
But Smith hasn't forgotten her mission.
That's why she posted pictures on Faceboook this week of her son before his surgery, three years back.
"It's not comfortable to post a picture of a child with a stomach that big," Smith said. "It's not comfortable to post back-to-school pictures like these moms have to -- when last year it was their kid standing in front of the door, and this year it's a grave site. That's not comfortable, but we post it because something has got to change."
Smith feels there's a lack of funding for childhood cancer research.
"What Americans spend a year on Starbucks is what the government gives to childhood cancer," she said.
Children's Mercy Hospital said childhood cancer is the No. 1 killer by disease among children, yet all childhood cancers combined receive less than 4 percent of the National Institute of Health's Budget.
"There's money in all these other cancers, these adult cancers, and so they're just not putting the money where it needs to go. But, like, the kids are the future. So really, where should we be putting our money and our efforts?" Smith said.