This is an archived article and the information in the article may be outdated. Please look at the time stamp on the story to see when it was last updated.
KANSAS CITY, Mo. -- It's been a busy week since 13 veterans moved into their new tiny homes at 89th and Troost. Now, employees with Veterans Community Project are working around the clock to protect the men and women who spent their lives protecting us.
On Wednesday, new lights were installed at the village of tiny homes, and soon a new 5,000-square-foot community center will provide 24/7 staffing, including overnight security.
Bryan Meyer is a veteran who spent his life serving our country. As the co-founder of Veterans Community Project, he now spends his days protecting his fellow men and women in uniform.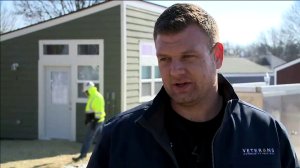 He said the entire tiny homes model was built around safety.
"It is an incredible responsibility to want to do right by them," Meyer said. "Myself and a lot of the other people who work here, we are all veterans. So we all feel that sense of care and responsibility to do our absolute best by them."
This week, employees rotated turns spending the night at the property to keep the veterans safe and comfortable during their first week home.