This is an archived article and the information in the article may be outdated. Please look at the time stamp on the story to see when it was last updated.
INDEPENDENCE, Mo. -- It's hard to help others if you don't have a ride.
On Thursday, a metro nonprofit known for acts of generosity got a gift of its own -- the surprise donation of a used pickup truck.
Cheers of joy spread throughout Independence car dealer Cars Plus Credit, Inc., which sits on Highway 24. Jennifer McCartney said she never saw the moment coming.
As she walked through that used car parking lot, she slowly realized her friends and the car lot's owner, Todd Rechterman, were there to greet her with the keys to a used 1998 Mazda 3000B pickup. Rechterman said the truck was valued at $2,500.
"On behalf of Cars Plus, we'd like to donate this truck to you," Rechterman said, handing McCartney the keys.
"Oh, wow! Thank you," a tearful McCartney replied.
Since 2015, McCartney had led the Kansas City Heroes, a nonprofit group known for performing random acts of kindness throughout the metro. The Heroes have served meals to the homeless, helped the penniless move from one home to another and performed housework for those who can't.
Until Thursday, their volunteers did it all, using their personal cars to haul the donations.
McCartney said she had no clue the donated pickup was hers, second-hand wheels given so she can continue giving.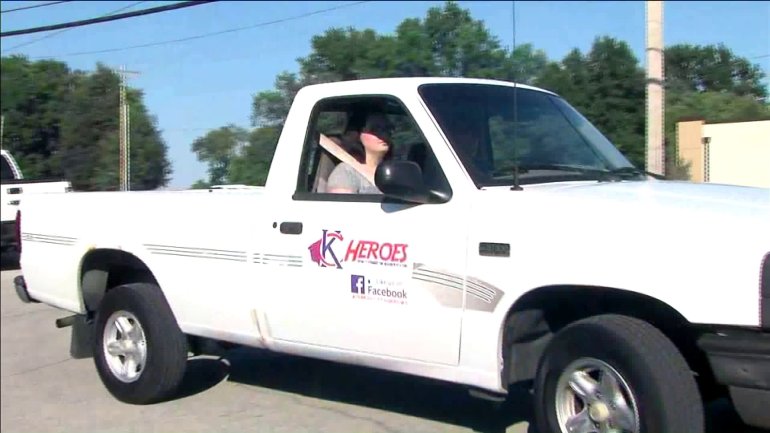 "We've been needing a truck to help. We have to deny donations all the time because we can't go pick them up and deliver them to the people in need. That's always been such a heartache for me," McCartney told FOX4.
The people and their pets she's helped over three years said no one deserves it more. When south Kansas City resident Rachel Drey, a single mother, adopted her dog, Brody, she had no idea the puppy was sick with Parvovirus, which rang up a weeklong veterinarian bill.
"He was really sick," Drey said. "They didn't know if he'd make it."
Drey said McCartney, along with the Kansas City Heroes, helped her pay the vet tab, and perhaps, saved the dog's life.
"They do a lot of great work with the community. I know they've had a hard time without a truck or the proper vehicles," Drey said.
"It's a blessing. We bless by blessing others," McCartney said.
Kansas City Heroes members said McCartney's personal car bit the bullet on Wednesday, and it's going to cost hundreds of dollars to fix it. That's money she doesn't have. On Thursday, the woman known for paying it forward gets a little payback.