This is an archived article and the information in the article may be outdated. Please look at the time stamp on the story to see when it was last updated.
LEE'S SUMMIT, Mo. — Summer is here, and so is the heat! And that means visiting a local pool, lake or water park is a great option to stay cool and have some fun.
About 12,000 pounds of anchors weren't able to withstand and hold down equipment at Rowdy Ribbit's during last weekend's storms.
"Last weekend`s storm didn`t give us any damage however those 70 mph winds actually blew our equipment out into the lake about 80 feet farther than what it is now," said Brittani Hatley, owner of Rowdy Ribbit's.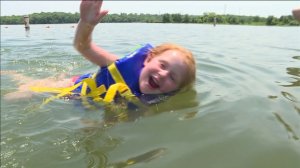 Hatley said the grand opening of the inflatable water park was delayed a full week. But after getting some help from Lee's Summit Underwater to put the inflatables back in place, metro families will be able to officially dive in this weekend.
"It`s very important because when they`re in the house, all they want to do is play on their video games. So any chance I can get them out of the house and do something fun, it`s totally worth it," said Debra Park, a metro mother of two.
Courtney Staton said with swimming pools and lakes season officially here, the only screen her sons Eli and Everett will need to worry about having is sunscreen.
"We want them to be off the screens and off the TV as much as possible," Staton said. "They are off the wall crazy all the time, so having an outlet for them to come out and do something where it`s not crowded in a safe place is really cool."
Longview Beach manager Brittany Twyman said lake lifeguards are ready for what they believe is going to be a very busy weekend and summer out on the water.
"During the week we have more people than you would expect out on the weekdays but our weekends are really packed. We`ve got a lot of people that just come out, have a good time. Summer time everybody wants to be in the cold, wet water," Twyman said.
With temperatures this summer to continue to exceed 90 degrees, parents are excited to give their kids options to get outside.
"We love having the kids out here. It is so awesome for them to be able to get out, get some physical activity in, have some structured play, have fun, get rowdy, and we`re just excited to get all the kids and adults out here," Hatley said.
---
There are plenty of metro pools, lakes and water parks that can keep kids busy this summer. Here's are just a few in the metro:
Kansas-side pools: 
Tomahawk Ridge Aquatic Center: 11950 Lowell, Overland Park; 913-327-5675
Bluejacket Pool: 10101 Bond St., Overland Park; 913-327-5671
Stonegate Outdoor Pool: 9701 Antioch, Overland Park; 913-327-5674
Cedar Creek Community Pool: 11400 S. Parish St., Olathe; 913-764-9853
City of Prairie Village Pool: 7711 Delmar, Prairie Village; 913-642-6010
Frontier Pool: 15909 W. 127th St., Olathe; 913-971-5349
Splash Cove at Jim Allen Aquatic Center: 5800 King Ave., Shawnee; 913-631-7177
Ad Astra Pool: 8265 Maurer Road, Lenexa; 913-492-7946
Missouri-side pools: 
Legacy Park Community Center: 901 N.E. Bluestem Drive, Lee's Summit; 816-969-1550
Summit Waves: 120 S.W. Blue Parkway, Lee's Summit; 816-969-1515
Brush Creek Community Center: 3801 Emanuel Cleaver II Blvd., Kansas City, Mo.; 816-784-4000
Southeast Community Center: 4201 E. 63rd St., Kansas City, Mo.; 816-784-2500
Jarboe Park Pool: 1640 Jarboe St., Kansas City, Mo.; 816-350-2628
Lakes with boat rentals:
Longview Marina: 9898 Longview Road, Kansas City, Mo.; 816-966-0131
Blue Springs Marina: 1700 N.E. Bowlin Road, Lee's Summit; 816-795-1112
Lake Jacomo Marina: 7401 W. Park Road, Blue Springs; 816-795-8888