This is an archived article and the information in the article may be outdated. Please look at the time stamp on the story to see when it was last updated.
LAWRENCE, Kan. -- He mentioned his favorite drink at least half a dozen times during FOX4's exclusive interview. Syed Jamal, his wife Angela and their three children enjoyed family time around the kitchen table over cups of coffee.
They went for almost two months without those moments, due to what would become a very public battle over Jamal's immigration status.
He came to the states on a student visa in 1987. Jamal attended KU, Rockhurst, and UMKC. He earned a master`s degree, taught chemistry at Park University, and settled in Lawrence with his family.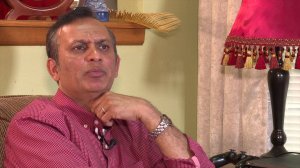 On the way to taking his daughter to school this past January, Jamal's life would drastically change. As they sat in their van, about to back out of the driveway, two U.S. Immigration and Customs Enforcement agents sent his daughter inside and cuffed Jamal in his driveway.
From there, he spent 55 days in the custody of Homeland Security, moving from Kansas City to Morgan County to Dallas then west Texas, not knowing when he would see his family again. At times, his family had no idea where he was.
"I was processed, shackled, handcuffed with everyone, put on the bus," Jamal said.
Little did he know his family, friends, and community were on their own journey. They spent weeks writing letters and getting in front of cameras to share Jamal's story.
Then finally, good news was delivered to Jamal mid-air, just hours before he was to arrive back in Bangladesh. His plane diverted to Hawaii.
"Mid-air, you know, there is a stay," he said. "Prior to that, you've gone through the roller coaster. I`m constantly thinking about my kids, my family and the U.S."
His family was there in Platte County, waiting for his release -- 55 days from the moment they didn't get to say goodbye in the driveway.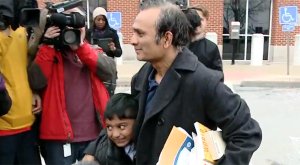 "'Oh my gosh, am I in a dream, is this real?' And then I wake the next day, and I`m like, 'Is dad still here?' I run to his room and he`s there, and it makes me so happy," Jamal's daughter Naheen said.
Many have asked: A college professor, here more than 30 years? Why would someone so educated not go through the proper channels that would allow him to stay?
Here's the process: To become a U.S. citizen, you apply for a green card, which could take decades to get approved. In the meantime, you have to stay in status by applying for a visa. Jamal had a student visa, then a work visa. His job ended, so he applied -- and was approved -- for a family visa.
That's when the Department of Homeland Security found a lapse of time in between, in which Jamal`s visa has expired.
But he`d already had a new approved visa for a couple years; and an order from 2012 that let him stay here legally until October of this year. He'd  also been checking in with DHS in person, like he was supposed to, which is what makes his January arrest questionable.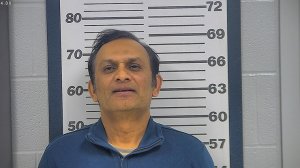 Jamal's son Taseen hopes this situation will help shape what happens with immigration, politics aside.
"It doesn`t matter which party you are," he said. "It`s just a matter of doing the right thing."
He also said it was incredibly hard for his mother.
"I`m sure it's imaginable, how hard it is," he said. "Even if you haven't been through it, even if you're not married, someone you really care about like a parent or close friend. If someone imagines losing that person, or coming really close to it and not knowing at all what will happen, that's basically, I guess, what she felt like," Taseen said of his mom.
"I tried to distract myself by working on a ton of homework, but eventually you run out of homework, and you`re just left there with your thoughts," his sister Naheen said.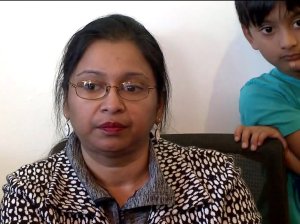 She said her dad`s absence taught them the value of one another; even her younger, sometimes annoying, brother Fareed.
"He`s my baby brother. I don`t want him to be sad. It makes me sad," Naheen said.
But, there are no tears here now. Jamal is home with his family, drinking coffee.
Jamal said the Board of Immigration Appeals will review his case and arrest. His wife Angela came to the U.S. with Syed; her status is tied to his case. She sent this statement to FOX4:
"We must have our family's story heard by the Board of Immigration Appeals and make it clear that Syed has taken every step to ensure he lives in America legally. My husband escaped physical abuse and discrimination in Bangladesh as a young adult and came to America to learn, start a family and teach our young adults as a professor. He loves this country and has done everything possible to make sure this is his home. We cannot imagine our family without him, and we need the BIA's attention to ensure we won't lose him forever due to deportation."