This is an archived article and the information in the article may be outdated. Please look at the time stamp on the story to see when it was last updated.
KANSAS CITY, Mo. -- At one metro summer camp, high school girls are heading to the construction site to learn from real women in the industry.
"I like hands-on stuff like that, construction," said Jashae Trezvant, one student attending the camp.
"I thought it sounded really cool, and I've never done anything like this before," said Lily Spinner, another student attending the camp.
The Kansas City Construction Industry and the National Association of Women in Construction have paired up every year for the last seven years to offer high school girls tricks of the trades.
"We think there's a strong need to more females out in the construction industry," said Alise Martiny, the camp coordinator and a member of the Greater Kansas City Building and Construction Trades Council. "There's a lot of work going on with the downtown convention hotel, as well as the airport. We're just trying to make sure our workforce is diverse."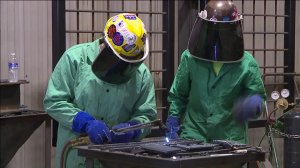 They offer a free weeklong camp to metro girls, so they can learn hands-on skills.
"Electrical, pipe fitters, plumbers, carpenters, bricklayers, laborers," Martiny said.
On Tuesday, tradeswomen and instructors at the Builders' Association Training Center taught the girls at the camp welding, among other skills.
"Usually girls don't do this type of thing, so I'm really surprised," Trezvant said. "It's for anybody. Anybody can do this."
Some are interested in pursuing a career in this field. Others simply want to learn new skills.
"I thought it would be fun to learn how to do this and have new experiences," Spinner said. "My dad was talking to me and said if I learned something I could use at home, that would be super helpful. So if I can use any of this in the future, that would be really good for me and anyone else I'd be helping."
"It's so important to educate our future workforce of the opportunities," Martiny said. "In Kansas City, Missouri, we have workforce goals. Those goals are 10 and two -- 10 percent minorities and 2 percent female. We're meeting those goals, but those goals need to be higher. We need to show these girls. It's not just about construction. It's about empowering them and knowing they can do this."
Several girls who have attended the camp in the past go on to work in the trades.
"I'll go to a vocational program or I'll go to a job site, and they'll come up and say, 'I was in your camp three or four years ago.' That's what it's all about when you can show anybody can do the job," Martiny said.
Each day, the camp focuses on a different skill. On Friday, the group will tour the IATAN Power Plant in Missouri.
For more information on this program, visit their website.