This is an archived article and the information in the article may be outdated. Please look at the time stamp on the story to see when it was last updated.
INDEPENDENCE, Mo. -- A donated trumpet is now the bridge between a metro teenager's past and future.
Destiny White-Dixon is a senior in high school now -- and because of that trumpet from FOX4's Band of Angels, she's received full scholarship offers to multiple colleges.
"I said, I really want to play the trumpet, and he said, 'Well, I heard of this place called Meyer Music and Band of Angels, and I saw it on the news,'" White-Dixon said in an interview FOX4 filmed when she was in the sixth grade.
That's when the dream started to become reality for the now 17-year-old. That's when her grandfather suggested she play the trumpet.
"She's been playing ever since," said Destiny's mom, Selita Johnson.
"Since I learned to play the trumpet, my life has changed in numerous ways," the teen said. "It's opened doors for me that I never thought would open for me."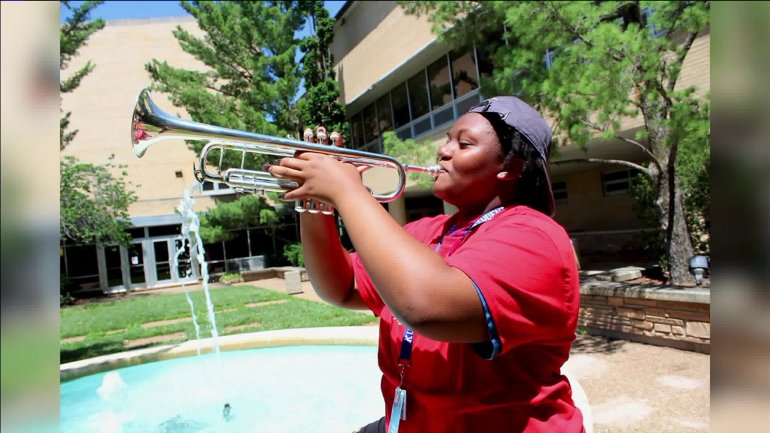 White-Dixon is now a senior at William Chrisman high school and is deciding between two colleges, Clark Atlanta University and University of Arkansas at Pine Bluff. Through her musical skills, she got a full tuition scholarship for both schools and plans to major in music.
"I can`t afford to send her to college by myself with my income, so it`s a blessing for her to be able to get a scholarship," Johnson said.
The Independence teen has played the trumpet for about six years. This year, she decided to take on a new challenge -- so she picked up the bass.
Her mom said the success is all because her daughter got her hands on a donated trumpet years ago, thanks to the partnership between FOX4 and Meyer Music -- the Band of Angels Instrument Donation Program.
"I'm sorry, I don't mean to cry," Johnson said. "Because of them being so generous and blessing my daughter with an instrument -- she told me years ago she wants to play, and I couldn't afford to buy her an instrument."
Because of the trumpet, White-Dixon said she gets to go to college, had the chance to meet some amazing people, and was able to attend special music and leadership camps.
"It means the world to me to have all these opportunities because, without music, I don't think I would be the person I am, and I`m really proud of the person I am becoming," White-Dixon said.
The teen's mom isn't the only one who's proud of her.
"It's incredibly gratifying to see it," said Mike Meyer, chairman of the Band of Angels. "We interviewed her when she was in sixth grade after she had played on her trumpet for a year and asked what did she think about when she thought about playing a trumpet. She said college."
"So, you think you`ll go on and play in college?" a FOX4 reporter asked in the 2012 interview.
"Yeah," White-Dixon said.
Meyer said after seven years, the FOX4 Band of Angels program has given out more than 1,700 instruments to kids in schools across a 100-mile area and in about 60 school districts.
"It`s the viewers of Kansas City and everybody who`s made a donation to Band of Angels that should just feel incredibly proud," Meyer said. "Now, to see her receive multiple letters from multiple colleges saying full scholarship, it really is what we had fully intended for Band of Angels when we first started it. We knew this day would come, but we just didn't know when."
"I`m very grateful to them, for helping my family," Johnson said with tears in her eyes.
"I didn't think I was going to go to school for music, of course not. I really didn't know what I wanted to do, but now it's a blessing because I didn't expect any of this to happen," White-Dixon said.
If you have an instrument in your closet and it's not being used, you can donate it at Meyer Music in Overland Park. They even take damaged instruments. If they can't fix them, they're used to make art, raise money for scholarships and send kids to camps.