This is an archived article and the information in the article may be outdated. Please look at the time stamp on the story to see when it was last updated.
RAYMORE, Mo. — It all started with an attempted traffic stop late Wednesday night. It ended with 27-year-old Preston Ray Holloway dead. But in between, numerous people's lives were put in danger.
Police said it was around 11:30 p.m. Wednesday when Belton police tried to stop Holloway's red Ford Explorer heading south on Interstate 49.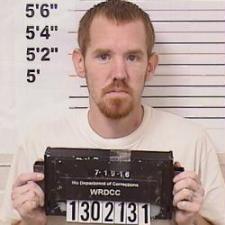 Lori, who did not want her last name published, then ended up in the middle of the police chase that ensued.
"I heard voices yelling, 'Put the gun down!' and then I knew I was in trouble," Lori said.
Then her car became part of the incident too.
"He stuck the gun through the crack of the window and started screaming at me to get out of the car," Lori said.
Two troopers in that area put down stop sticks and flattened Holloway's tires. That's when officers said he forced Lori out of vehicle and drove away.
"All I could think of is, 'I have to get as far away from this guy and out of range of whatever gun he`s got.' I just wanted to get away," Lori said. "I started shaking and felt like my knees were going to give out."
Holloway sped away — this time in the stolen SUV. Troopers chased him into Raymore, where he ditched the stolen car.
Investigators say he tried to run but pointed a gun at himself — and then at officers.
"When he pointed the gun at the officers, they exchanged gunfire," Sgt. Collin Stosberg with the Missouri State Highway Patrol said.
"It was like, 'Pop, pop, pop, pop,' six times," said Mildred Graves, whose home was hit by bullets.
Graves said the shooting took place right outside her home.
"We looked out the window, and we could see all the police," she said. "Then we looked, and there was a man lying on the sidewalk."
"It was definitely something that I'm glad didn't kill my mom," said Jerry Graves, Mildred's son.
The shooting severely injured Holloway. He later died at the hospital.
Officers said they originally tried to stop Holloway on a routine traffic stop. Police later discovered Holloway had two active felony warrants for his arrest in Jackson County, Missouri — one for burglary and the other for a drug violation.
Lori said the local police and the multiple agencies involved in this went out of their way to help her, and for that she's extremely grateful.
As for which agency fired the fatal shot, police said the investigation is ongoing.