This is an archived article and the information in the article may be outdated. Please look at the time stamp on the story to see when it was last updated.
RAYTOWN, Mo. -- When some people take a look at the newest American Girl Doll, they'll just see a doll. But for Dorinda Nicholson, she sees a symbol of something much bigger.
"The American Girl Doll, Nanea, which depicts what it was like to be me and others like me," said Nicholson, an author of four books and a member of the advisory panel for the new doll.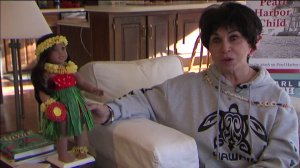 Nicholson said Nanea's appearance is authentic to the era in which she grew up. Nanea, which means "to make peace," represents Nicholson's struggles and triumphs when she lived in Hawaii -- a precarious place to live during World War II.
Nicholson said her family's home was just a few hundred yards from where Pearl Harbor was attacked. She was just six years old at the time.
"The morning of the 7th, when the enemy bombers came over our house -- so low, just barely above the tree tops and above the house top -- I could see the pilots, and I could see the goggles that covered their eyes," the 82-year-old said.
From going to school carrying, and sometimes wearing, a gas mask, to her father pulling bullets out of their kitchen wall, Nicholson has taken those experiences and turned them into books aimed to help anyone going through adversity.
"You're going to have battles in your life. There are going to be explosions. You're going to have people sabotage your dreams, and you can do it." Nicholson said. "It gives me a whole other way to reach children and students in schools."
It's a reach she hopes will touch thousands of children and families for many more years to come thanks to Nanea.
"Symbols can help us through a lot, so this is a symbol that will mean more to me than it would to other families," Nicholson said. "But I'm also hoping this symbol will open some doors that I might share more with other students in our country."
Nanea was released on Aug. 23. Proceeds raised from now until Christmas will be donated to the Military Armed Services Division of Red Cross. An additional 5,000 dolls will also be distributed to different Red Cross chapters across the country.