This is an archived article and the information in the article may be outdated. Please look at the time stamp on the story to see when it was last updated.
GRANDVIEW, Mo. — The oldest indoor auction site in the metro will close its doors for good. The final gavel goes down Friday night.
Michael England and his family have owned England's Auction in Grandview for more than 40 years, but the 71-year-old says it's time to move on.
Countless items ranging from furniture to antiques have been sold inside the small warehouse on Duck Road.
"I don`t have an exact count, somewhere around 2,300 to 2,400 auctions I've done," England said.
The secret to those sales?
"What's important is not where you start but where you end," he said.
For England, coming to work every day has always been about forming relationships with his customers.
"It's a people place. That's why little businesses like this work," he said.
While the 71-year-old is simply ready for retirement, he does fear the profession is slowly dying given the rise of online auctions.
"I don't see this business in 10-15 years," he said.
Many of the items that will be up for grabs during England's last show — as he likes to call it — are prize pieces he's collected over the last four decades.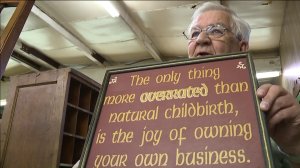 But there is one memento, a gift from his wife, that he plans to keep: a sign that compares the pains of childbirth to the struggles of running a small business.
"It means to me that I was able to win the battle and not let the small business take me down," England said.
His final auction will take place at 6 p.m. Friday.
England said he's looking forward to spending time with his family and taking his first vacation in 30 years.