This is an archived article and the information in the article may be outdated. Please look at the time stamp on the story to see when it was last updated.
Update: Shortly before 1 p.m. on Friday, July 26, Tim Fritson, youth pastor at Liberty Christian Fellowship, posted to Facebook that the body of missing runner Chad Rogers was located. Read more here.
LIBERTY, Mo. — Thursday yielded no new clues for a missing 30-year-old jogger from Liberty.
Chad Rogers was last seen when he went for a run around 8:30 p.m. Monday. After being gone longer than usual, family began to grow concerned.
"At that point, 10:30, it's been two and a half hours and he's not back. You start to get concerned, so I got in my car and started driving around, thinking he's right around the corner," his father Greg Rogers told FOX 4.
Chad is a marathon runner, married and has a one-year-old son.
SEE ALSO: FOX 4 coverage of missing Liberty runner Chad Rogers
News of Rogers' disappearance spread like wildfire on social media. A Facebook page called "Bring Chad Home" has more than 29,000 likes — after only being up for 48 hours.
Hundreds of volunteers, along with the Liberty Police Department and the Community Response Team, or CERT, spent Thursday in an expanded search area along Birmingham Road.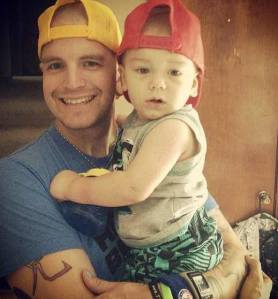 Despite extra help with additional K-9 units and police on horseback, all areas that were searched brought no new clues into the man's disappearance.
"People I don't even know. I met a woman from Lee's Summit. They're about to go on vacation and their son just wanted to come up and help," Chad's father said. "It's been very, very humbling knowing people care."
The 30-year-old was last seen wearing a bright orange visor with Newton Running printed on the back, black running shorts and red running shoes. He was not wearing a shirt, police said.
Rogers is described as 5'11", 175 pounds, with a shaved head and tattoos across his upper chest, arms, forearms, both thighs and right calf.
Liberty police continue to ask for the public's help and said they will continue to follow new leads in the investigation. Anyone with information should contact police at 816-439-4701.