This is an archived article and the information in the article may be outdated. Please look at the time stamp on the story to see when it was last updated.
JEFFERSON CITY, Mo. -- Missouri lawmakers heard testimony on Monday on a bill that would allow bullies to be charged with manslaughter if their actions result in a victim's suicide. The bill is named 'Kenny's Law', in honor of a teenager from mid-Missouri who took his life in December 2016.
Bullies had targeted Kenneth Suttner throughout his 17-year life, making fun of him for being overweight and for his speech impediment.
But 'Kenny's Law' supporters say when the bullying began at work, from his own boss, Suttner lost the will to live.
"He was the poster child of turning the other cheek. he was bullied constantly through school and took it until he got to the workplace where it was just too much," said Frank Flaspohler, Howard County, Mo., coroner.
After Suttner's death last year, a coroner's inquest was launched to learn more about what led up to his suicide.
"We did about a six and a half hour hearing a coroner's inquest, about three hours was in regards to the bullying that happened in the school and the other three hours in the workplace. We heard direct testimony from individuals who witnessed the harassment that Kenny endured," said April Wilson, the special prosecutor.
Witnesses said Suttner's boss would throw burgers at him and make him get down and clean the floor on his stomach.
Despite the trauma Suttner endured, April Wilson announced this month that she would not pursue second-degree manslaughter charges against the boss because she doesn't believe she could convict him under current law.
To change this for the future, Wilson went to Jefferson City to testify in favor of Senate bill 791, a proposal that would allow prosecutors to charge someone with second-degree involuntary manslaughter if they 'knowingly incite any person' to take their own life.
"You always hope that in your career that you do something that actually makes a difference or matters, so I'm humbled and grateful that the discussion has begun," said Wilson.
Kenny's boss at Dairy Queen, Harley Branham, still faces charges of third-degree assault and harassment.
The state senate committee still has to vote the bill out to the full chamber.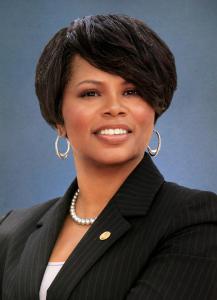 The bill's sponsor, Missouri Senator Jamilah Nasheed, D-St. Louis, said her mother died from suicide.
"I still don`t know why to this day, but I do know that we have a very serious problem with bullying and suicide," said Nasheed.