This is an archived article and the information in the article may be outdated. Please look at the time stamp on the story to see when it was last updated.
ST. LOUIS — A teenager secretly dating a sex offender she had worked with at Kentucky Fried Chicken was still missing on Thursday, and investigators believe she ran off with the man on Monday.
Molly Linhardt, 16, worked at the KFC in St. Peters, Mo., about 30 miles northwest of St. Louis with Benjamin Kinkade, 27. Kinkade is a registered sex offender, following a charge in 2002 that he raped a 12-year-old girl in Troy, Missouri when he was 17 years old.
"She spent the day with him. She did not go to school like she was supposed to," said Melissa Doss, a St. Peters police officer. "Her dad caught her spending the day with him, took her home, took away her cell phone then she said she had to go to work."
Her parents dropped her off at work at about 4 p.m. Monday, but later found out she was not scheduled to work. Kinkade no longer worked at the restaurant.
Family members say Molly left her phone behind and Kinkade's phone is turned off, making police unable to "ping" their phones to get a location.
Linhardt is described as a white female, 5'3″, 110 lbs, with blonde hair and blue eyes.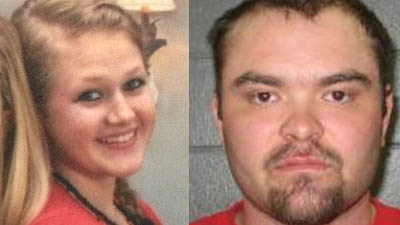 Click here for the story from fox2now.com in St. Louis.