This is an archived article and the information in the article may be outdated. Please look at the time stamp on the story to see when it was last updated.
ST. LOUIS, Mo. — Missouri Gov. Eric Greitens has been indicted Thursday on a felony invasion of privacy charge, officials say.
St. Louis Circuit Attorney Kimberly Gardner launched an investigation earlier this month to determine if Greitens committed crimes linked to an affair he had in 2015.
On Thursday, a St. Louis grand jury found probable cause to believe Greitens violated state law by allegedly taking a compromising photo of the woman he had the affair with. He is not charged with blackmail.
Greitens released the following statement about the indictment:
"As I have said before, I made a personal mistake before I was Governor. I did not commit a crime. With today's disappointing and misguided political decision, my confidence in our prosecutorial system is shaken, but not broken. I know this will be righted soon.
"The people of Missouri deserve better than a reckless liberal prosecutor who uses her office to score political points. I look forward to the legal remedies to reverse this action.This will not for a moment deter me from doing the important work of the great people of Missouri."
In a statement, Gardner said people "deserve a thorough investigation."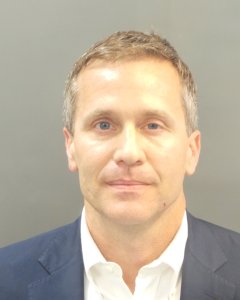 "As I have stated before, it is essential for residents of the City of St. Louis and our state to have confidence in their leaders. They must know that the Office of the Circuit Attorney will hold public officials accountable in the same manner as any other resident of our city. Both parties and the people of St. Louis deserve a thorough investigation of these allegations," Gardner said in a news release about the indictment.
Court documents say Greitens allegedly photographed the woman "in a state of full or partial nudity" without her knowledge or consent. The indictment said Greitens "transmitted the image contained in the photograph in a manner that allowed access to that image via a computer."
Greitens was taken into custody in St. Louis and was released on his own recognizance. He will not have a bond and will be allowed to travel freely throughout the United States. His first court date is set for March 16.
Greitens attorney, Edward L. Dowd Jr., released the following statement about the indictment:
"In forty years of public and private practice, I have never seen anything like this. The charges against my client are baseless and unfounded. My client is absolutely innocent. We will be filing a motion to dismiss."
Dowd Jr. later released a second statement:
"We welcome reviewing this issue with the independent, bipartisan committee of the Missouri House of Representatives.
"For 40 years as an attorney for the public and for private litigants, I have never seen anything like this. The charges are unfounded and baseless. The Governor is absolutely innocent. Not only is he presumed innocent – he is innocent. This whole investigation is completely unusual.
"This statute has never been used like this in Missouri history. In unprecedented fashion, the Circuit Attorney circumvented the local police force and hired her own investigators – we attempted to meet with the Circuit Attorney and make the Governor available to discuss the issues. They refused. She proceeded to file an indictment that has no facts.
"We will work with the committee. We will be deposing witnesses and will be happy to share information with you with the Court's permission."
In January, the Republican governor and his wife released a statement after the St. Louis television station KMOV reported he had a sexual relationship with his former hairdresser in 2015.
Greitens acknowledged that he's been "unfaithful" in his marriage but denied allegations that he blackmailed the woman to stay quiet.
In the story that aired on KMOV-TV in St. Louis, the woman's ex-husband claimed Greitens blindfolded the woman, led her downstairs and then took a picture of her, which the ex-husband says he then used for blackmail.
In response to the indictment news, Al Watkins, the attorney representing the ex-husband, told CNN:
"Lady Justice can sometimes operate in cumbersome ways. But right now we have an individual charged with a felony and in our great land, one must presume innocence until guilt has been proven beyond a reasonable doubt. It's best to let the system take its course."
Watkins said his client hopes to "put things in the rear view mirror" and move on.
In response to the circuit attorney's investigation, Greitens' attorney James Bennett issued the following statement:
"The Governor is very confident he will be cleared in any investigation. This is a three-year-old personal matter that presents no matters of public or legal interest. The facts will prove that fully. As we learned today, these false allegations are being advanced by political adversaries," Bennett said in early February.
The statute Greitens is accused of violating has a provision for both a felony and a misdemeanor. The law makes it a felony if a person transmits the image contained in the photograph or film in a manner that allows access to that image via a computer. If found guilty, the Class D felony carries a punishment of one to four years.
The identities of the woman and ex-husband were not released in KMOV's report. The woman allegedly involved did not comment on the record to the station, but her ex-husband provided an audio recording he made to KMOV in which a woman gives details about a sexual encounter.
The ex-husband claimed she was talking about herself and Greitens when she went to the Greitens' St. Louis home in March 2015. The woman did not know her then-husband was recording their conversation.
Several other St. Louis media outlets, including FOX 4's sister station FOX 2, also had the recording, but chose not to release it because the woman refused to comment. Once the recording became public, those St. Louis outlets felt compelled to release it as well.
Bennett said any allegations of violence are false, and the relationship was consensual.
"This was a consensual relationship that lasted multiple months and was years ago before Eric was elected Governor," Bennett said earlier this month.
Greitens' attorney said that they believe the report was the result of a "political hit piece."
"The latest reporting has finally disclosed that the reporting was being driven by a 'source' who is the former Democrat state party chairman and who apparently has not spoken to the person in question," Bennett said in early February. "This goes a long way to explaining what is going on. It's become clear this is a political hit piece. This is and remains an almost three-year-old private matter with no matter of public interest at stake."
Some groups and individuals began calling for Greitens' resignation last month. But Bennett said the governor will not resign.
"The governor is not resigning and his plans are to continue to serve the people of Missouri," Bennett has said in the past.
When asked if the Attorney General's Office would open a probe into the allegations, AGO Deputy Chief of Staff Loree Anne Paradise released the following statement:
"Under Missouri law, jurisdiction over alleged criminal conduct of this nature rests with the Prosecuting Attorney in the place where the conduct occurred. If the Prosecuting Attorney has a legal conflict or lacks the resources to pursue an investigation, he or she may seek assistance from the Missouri Association of Prosecuting Attorneys and the Attorney General's Office."
Video from Thursday afternoon of Gov. Greitens leaving the Justice Center in St. Louis: