This is an archived article and the information in the article may be outdated. Please look at the time stamp on the story to see when it was last updated.
PARKVILLE, Mo. -- More than 75 years is a long time to be away from home.
On Wednesday morning, a fallen military hero got his just rewards and was laid to rest nearly eight decades after leaving home for the U.S. Navy.
The long trip home began with a ride in style, more than seven decades after the journey began. On Wednesday morning, U.S. Navy Seaman Harold Head finally returned to his hometown, Laclede, Missouri, on what would have been his 97th birthday.
A long funeral procession, lead by the Missouri State Highway Patrol and a large white hearse, made its way from Parkville. Crowds of onlookers lined the sidewalks, many of whom saluted the procession, holding out American flags as they observed.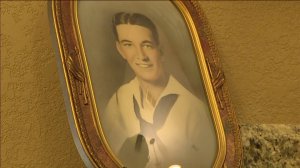 In 1941, Head was one of the 429 sailors killed aboard the U.S.S. Oklahoma when Japanese forces attacked the Navy base at Pearl Harbor. Only a handful of casualties from that World War II-era ship were identified, until military agencies began DNA testing their remains within the past decade.
Members of the Head family told FOX4 they submitted DNA samples in hopes the military could help them locate the remains of a pair of missing World War II veterans, including Harold Head.
"He would love this. He would absolutely love this," Fred Head McMillin, one of Head's surviving relatives, said Wednesday. "It gives me chills. It's absolutely wonderful. It's great. To drive to Laclede now and see all the flags all the participation from the locals and to see all the flags, it's amazing."
"It's hard to imagine what he went through that Sunday morning when the attack took over," said Shannon Head, another of the WWII hero's cousins. "He was just out of high school, and serving his country like he just loved it. It's something for him to want to do that, and to give his life at the end of the day."
Members of the Missouri Patriot Guard Riders took the trip along with Head, too, riding the entire way to Laclede along with the funeral procession.
Former U.S. Navy officer Jerry Ewing said he expected as many as 100 motorcyclists, a great number of whom are also former active duty military members, to ride behind the hearse, a show of respect to Head's sacrifice.
A large monument sits in the town of Laclede, which is dedicated to the six residents killed in World War II, none of whom made it home until now. That's also where Head will be buried. Laclede is also the birthplace of U.S. Army General John Pershing, who led American forces during World War I.
"Each of us were young kids when we walked through that door and raised our hand and went aboard those ships, not thinking the worst could happen. It did to many, many of them," Ewing, who served in the Vietnam War era, told FOX 4 News.
The U.S. military says the remains of roughly 70,000 casualties from World War II remain unaccounted for. Members of Head's family said they're hopeful DNA testing can provide more of those heroes receive the same honor -- a chance to go home.