This is an archived article and the information in the article may be outdated. Please look at the time stamp on the story to see when it was last updated.
PLATTE CITY, Mo. — One metro couple is going green at their winery but not just with their grapes.
Jason and Colleen Gerke, who own Jowler Winery, are trying to save the planet one bottle at a time. Their sprawling vineyard may look like you're in Napa Valley, but it's actually where the Gerke's call home right here in the metro.
"It's pretty awesome. It was a dream once growing up in California, seeing all the wineries and vineyards around, and now I have it in our backyard," Colleen Gerke said. "We're Missouri`s first green winery. We're located just north of Kansas City near Weston, and we make nine different wines ranging from dry to sweet."
Not only do they make different kinds of wines, but they also do it differently.
"We've never really set out saying we were going to be a sustainable vineyard," Colleen Gerke said.
She said it just kind of happened.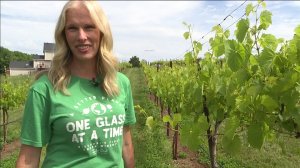 "Customers really were the ones saying, 'Oh, you're the green winery. You do the sheep. You do the chickens,'" Colleen said.
They rely on livestock and bats, instead of pesticides, to manage bugs and weeds.
"They're pretty much our natural lawn mowers and weed controllers. We don't have to spray out in the vineyards or weed. We don`t have to mow," Collen said.
"That got us looking at what else can we do or what are we doing that`s sustainable," Jason Gerke said.
Jason said that's when they added solar panels, on-site recycling and an electric car charging station.
"So really just a lot of little things that we hope add up to have a positive impact. No one thing makes us green, but it`s a lot of little things over time," Jason said.
They are the first winery to be certified green through Missouri's Department of Agriculture. In the next three years, they want to have zero waste.
"Right now what we're doing is working on an audit of what we are wasting and what is going into our trash cans and how can we lower that," Colleen said.
Not only do they want the wine to taste good, they want to feel good about their product.
"It's pretty nice knowing you have a green product going into the bottle, and you're doing your part to take care of the earth and your environment," Colleen said.
Which is what they plan to do until the last drop.
The state program the winery is certified through looks at different business factors to approve the certification. The factors range from how they use the land, energy, crop and how they protect the environment they are in.