This is an archived article and the information in the article may be outdated. Please look at the time stamp on the story to see when it was last updated.
KANSAS CITY, Mo. — The not-so-futuristic Hyperloop concept could one day whoosh across the Show-Me State at 670 mph. A newly formed group wants to find out how much building the giant tube between Kansas City and St. Louis would cost.
On Tuesday, the Missouri Hyperloop Coalition announced its existence and a fundraising effort. It's made up of five groups: Missouri Department of Transportation, the University of Missouri System, the KC Tech Council, the St. Louis Regional Chamber, and the Columbia-based Missouri Innovation Center. The public-private partnership is looking to the private sector to finance a feasibility study, which would scout locations and estimate construction costs. MoDOT estimates the study will cost between $1 million and $1.5 million.
Hyperloop One is the only company with a working prototype. In July, it shot a 28-foot-long pod into a Nevada test track. It hit 192 mph in less than five seconds, according to Wired.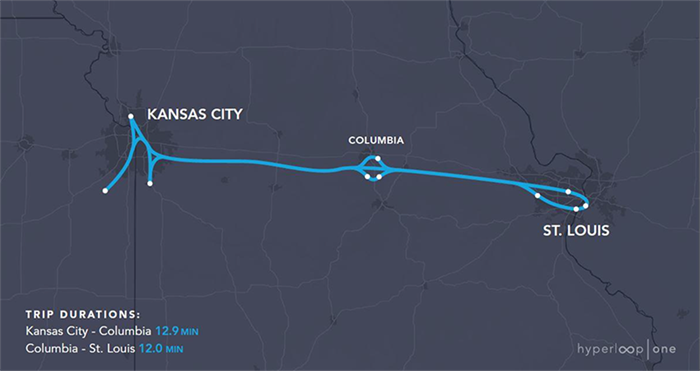 As tests continue, the company is courting cities around the world to be part of their first-ever route. The KC-STL route was named a finalist in The Hyperloop One Global Challenge, but didn't make the final cut when the company announced 10 winners Sept. 14. The formation of the Missouri Hyperloop Coalition was apparently enough to earn the KC-STL route a second look.
"We were never really out of it," said Ryan Weber, president of the KC Tech Council. "There were a couple of parts that needed to be completed with the documentation that comes with these incredibly complex projects. We did it, and that immediately moved us to the next stage which is to be finalists. The next stage is to be a winner, means that we've got to start a feasibility study."
The KC-STL Route is not currently listed among Hyperloop Challenge winners. It's unclear if Hyperloop One intends to alter their website.
As for the feasibility study, Weber says it might need a mix of public and private financing, but it won't use taxpayer money.
"There may be grants and other funds available for projects like this that we are unaware of at this point. At this point, we're seeking private funding," Weber said.
Weber said once the coalition has raised enough money, MoDOT will lead the study. He couldn't give an estimate on construction costs, but it would likely be in the tens of billions. The Colorado Department of Transportation estimates it would cost $24 billion to build the 360-mile route proposed in that state.
You can read the Missouri Hyperloop Coalition announcement here.