This is an archived article and the information in the article may be outdated. Please look at the time stamp on the story to see when it was last updated.
OLATHE, Kan. — The Johnson County District Attorney's office confirmed on Friday that there has been a mistrial n the case of a man charged in the murder of a Shawnee gun store owner.
The trial began on Monday in Johnson County.  On Thursday, prosecutors were nearing the end of their case against DeAnthony Wiley when trial was postponed. When they returned on Friday, the mistrial was declared.
DeAnthony Wiley is one of four suspects charged in the shooting death at She's A Pistol gun store.
Wiley is charged with first-degree murder for his role in the killing of Jon Bieker back in Jan. 2015. Bieker and his wife, Becky Bieker, co-owned the now-closed gun store at 6487 Quivira Rd.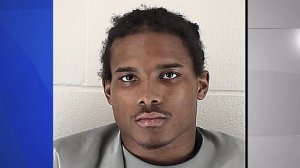 One pleaded guilty; the another was found guilty at trial, and the case is pending against the other man.
According to previous court testimony — the men entered the store and confronted Becky — attempting to rob her. Jon came from the back room firing shots, hitting three of them, including Wiley. According to Wiley and his attorneys, Wiley was on the ground and attempting to give up when Jon continued to approach him, firing.
Wiley claims he shot Jon in self-defense. The trial was expected to last through the end of the week. The district attorney's office says a scheduling conference is planned for Nov. 15.