This is an archived article and the information in the article may be outdated. Please look at the time stamp on the story to see when it was last updated.
KANSAS CITY, Mo. — Major League Baseball announced that they are canceling more than 60 million votes for the All-Star Game, according to Yahoo Sports.
The article states that the league decided to cancel the votes because they suspected fraud in the voting. Individuals are allowed to vote up to 35 times per email address for the All-Star Game.
"It puts us in a hard spot," Eric Hosmer told Yahoo Sports. "You won't go on my Twitter and see, 'Hey, vote for me and I'll sign a bat and send it to you.' We're not trying to go out and advertise ourselves. Obviously, the team does stuff for us. But that's what every team's gonna do."
FOX 4 spoke with Royals Vice President-Community Affairs & Publicity Toby Cook shortly after the announcement.
"We have no indication that it's going to affect any of the ballot release that has been put out over the past couple of weeks," Cook said, which indicates that the current standings released Monday June 15  with eight Royals players leading are valid.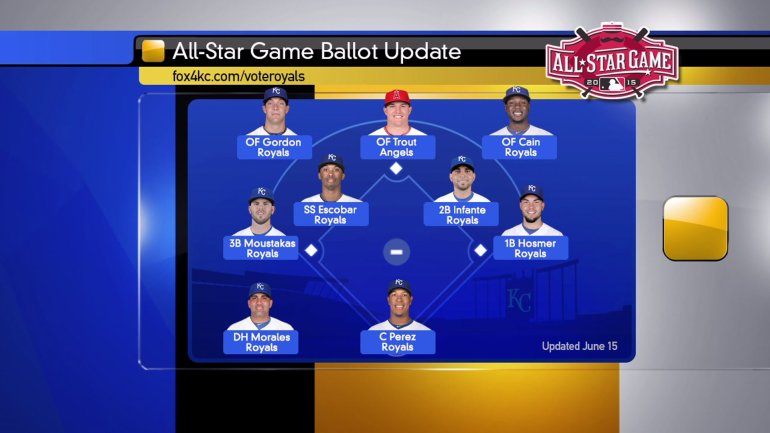 "The biggest deal that they're trying to keep from happening is that a non-human is voting," Cook said.
MLB has said all along that they have safeguards in place to keep fraudulent voting from happening, but fans of other teams became critical after the Royals had such a huge lead in votes according to Cook.
"From the reports that I had heard is that they detected fairly early on that this isn't 100 percent pure," Cook said.
Cook said he thought maybe the early lead in voting had to do with the Royals run in the World Series last season.
"When this first came out, and I don't get surprise by a lot around here, but it kind of knocked our socks off that the Royals had done as well as they had from a starting stand point," Cook said.
More than 300 million votes have been cast, and nearly half a billion are expected by the time voting concludes.
"My guess is that we're going to have several different Royals in the All-Star Game when this is all said and done," Cook said.
FOX 4 will continue to follow this story. Watch FOX 4 news casts and refresh this page for the latest.
You can still vote until Thursday, July 2. To learn how to vote your favorite Royals to the roster, click on this link.